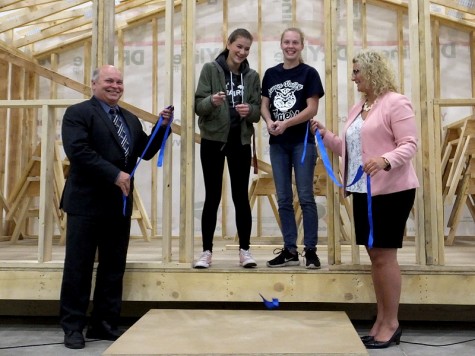 ValleyBiz Story | On May 31, 2018 the Swan Valley School Division held the grand opening of their Trades Building, the newest addition to a growing campus that also includes the Swan Valley Regional Secondary School, Heavy Duty Shop and University College of the North Regional Centre.
The new 8,400 square foot facility will support training in carpentry, general construction skills training and electrical construction and has been designed to facilitate the construction of ready to move structures.
The high school carpentry program has already begun and adult classes will be offered in the fall of 2018. The facility includes classroom space so plumbing, industrial electrical and alternative energy programs can be added in the future.
"This building has only become a reality because such a great number of people cared about kids and cared about the future of the Valley," said SVSD Board of Trustees Chair, Kelli Riehl. "The completion of the project has opened up so many more possibilities for educational options."