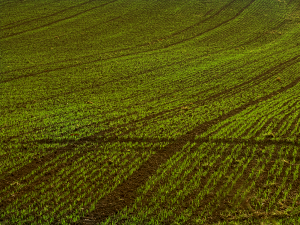 Northwest Region Crop Report Prepared by: Manitoba Agriculture
June 4, 2018 |
Northwest Region
Heavy rainfall throughout the Northwest Region brought field operations to a halt. Areas around Dauphin received upwards of 60 mm, Roblin area 75 to 92 mm, Swan River 45 to 60mm and The Pas area 40 mm. Soil moisture conditions have changed from dry to adequate for most of the region with some ponding in low-lying areas.
Overall, seeding is 95 to 100% complete, with The Pas estimated at 80% complete. Seeding of spring wheat is 95% complete and 50% is emerging. Canola emergence is at 50% fields emerged. Some reports of slow emergence and some reseeding due to heavy rains the previous week causing washouts and crusting. Soybean seeding is 95 to 100% complete and plants are emerging. Field pea and lentil seeding is complete and are starting to emerge. Winter cereals in the Roblin area are tillering.
Herbicide applications started as field conditions allowed and crops reached the proper stage. There are reports of spraying for flea beetles in some canola in the Swan River Valley.
Hay and pasture conditions have improved with recent widespread heat and rainfall events. In the more advanced fields, alfalfa growth is reported at 26 inches in height with plants in the early to late bud stage. Remaining herds are being hauled to pasture with, for the most part, growth sufficient to meet the animals' needs. Older and less managed sites will require supplementation. Haul out has been more challenging with poor pen and yard conditions in areas that have received heavy rainfall.