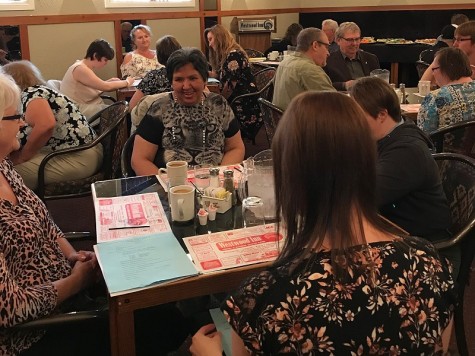 Submitted by:
Carla Dixon |
The Association for Community Living – Swan River held their 57th Annual General Meeting at the Westwood Inn on Tuesday June 05, 2018. Approximately forty people enjoyed the luncheon which was catered by the Westwood Inn at 12 PM with the meeting beginning at 1 PM.
Representatives from the Town of Swan River, Municipality of Swan Valley West, and Lion's Club of Swan River were in attendance and offered words of support and encouragement. MLA Rick Wowchuk was unable to attend but forwarded greetings.
ACL Board President John Christensen thanked all staff employed with the agency for their dedication and commitment in making a difference in the lives of the individuals we support. He proceeded to recognize 4 staff for their years of service with ACL Swan River.
The four staff recognized with "Years of Service" – Angie Pierrepont for 25 years, Daphne Currie for 20 years, Marilyn Wyatt for 15 years, and Cindy Gorski for 5 years.
Nicholas Sloane was the lucky door prize winner of the 5 packs of handcrafted covered hangers. Thanks to the ACL Day Program for donating the door prize!!
The 2018-19 Board of Directors are as follows; Valerie Bertram, John Christensen, Joanne Hrappstead, Georgia Hunt, Jaymie Klelta, Nikki McLean, Frances Mullin, Debbie Schulz, Rod Seib, Murray Wenstob and Phil Yakielashek
ACL Swan River would like to extend their appreciation to everyone that attended.