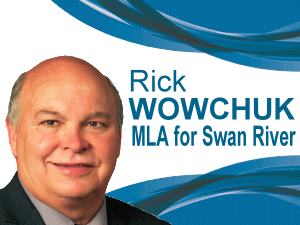 Submitted Story|
Swan River – Rick Wowchuk, MLA for Swan River, welcomes the introduction of a bill that will establish safer hunting and sustainable wildlife management. Bill 29, the Wildlife Amendment Act (Safe Hunting and Shared Management), includes measures to regulate some practices of night hunting, particularly spotlighting, as well as to ensure the sustainability of Manitoba's big game population.
"The top priority of our Progressive Conservative government in tackling this issue is the safety of all Manitobans," said Wowchuk. "This bill addresses the very serious concerns we have heard from Manitobans, while ensuring that our big game population remains sustainable and is hunted in an ethical manner."
Bill 29 was developed after an extensive consultation process. This legislation respects the constitutionally protected right of Indigenous hunting practices, while enhancing public safety and the ethical treatment of animals. In addition, the bill ensures that our government will continue to increase resources available to conservation officers to help keep Manitobans safe from dangerous and illegal hunting practices.
For additional information on the Wildlife Amendment Act, visit
http://news.gov.mb.ca/news/index.html?item=43975&posted=2018-05-16