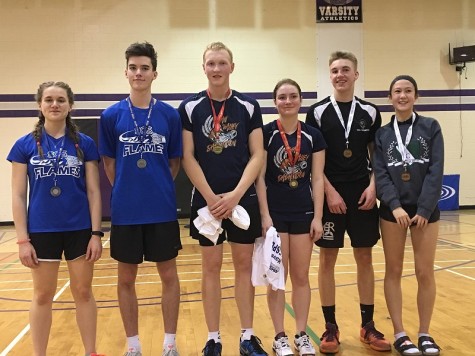 Pictured above: Mixed Doubles Medallists Silver – Steinbach, Gold – Swan Valley, Bronze – Vincent Massey (Winnipeg)
Submitted by Craig Zamzow | On May 4-5 Vincent Massey High School in Brandon hosted the MHSAA Badminton Provincials with 32 teams qualifying in each category.
Girls Singles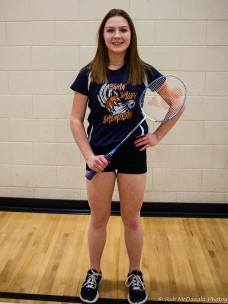 Grade 11 student Rachel Negrave, in her second Provincials, had a goal of reaching the championship round. She used her 2017 Provincials experience to a great start on Friday, winning 5 of her 7 round robin games to earn 2nd place in her 8-player pool and advance to Saturday's championship round.
On Saturday she won her round of 16 matchup to reach the final 8, and was eliminated from medal contention by the eventual bronze medallist. Rachel bounced back to win her next game before losing the 5th place game.

A great result confirming how much her game has grown over the past year. Rachel is positioned well to compete for a provincial medal in 2019.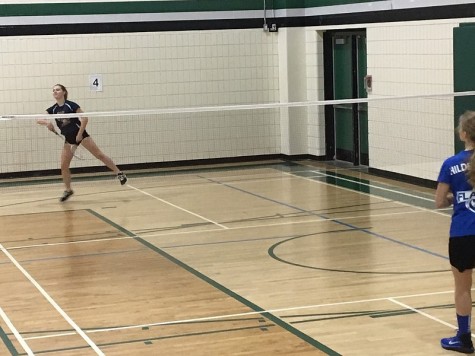 Girls Doubles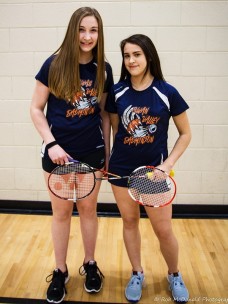 Grade 9 students Kiana Halkett/Emily Mayuk made a big commitment this winter and it paid dividends as they earned a Provincials experience. They had a rough start as they played the eventual gold medallists in their opener, perhaps shaking their confidence a bit. After losing their first three games they bounced back winning three of their last four (and the loss was a tight 22-20).
Once settled, this pair missed the championship round by one win and showed a lot of promise for the future.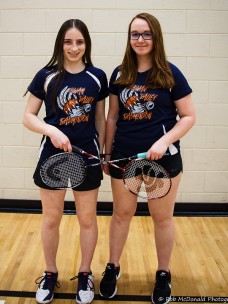 Erica Sembaluk-Hart/Bryn Zamzow (grades 10&9) were only paired up 6 weeks before provincials and may have been one of the team's most improved.
They battled through some tight games in the round robin finishing with a 3-4 record and in a 3-way tie for the last playoff spot. They won their first tiebreaker, setting up one game for the last playoff spot.
The game went down to the wire and the SVRSS pair ended up on the short-side of a 23-21 Final.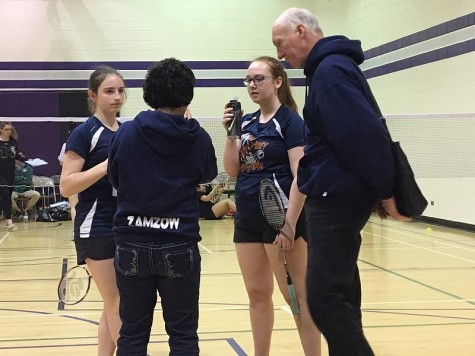 Boys Singles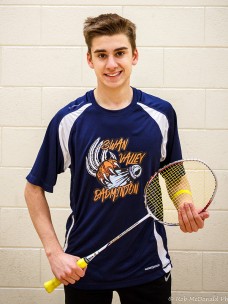 Jackson Kurtz (Grade 10 student) started off his first Provincials with two straight wins, but then ran into some tough competition (he had the 3rd and 4th place provincial finishers in his pool) and ended with a 2-5 record finishing 6th in his pool.
A tough finish but his positive attitude, athleticism, and commitment will prepare him well to advance to the championship round next year.



Boys Doubles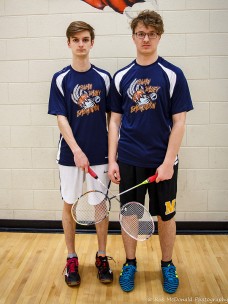 Grade 11 students Ethan Campbell/Sean Kirkpatrick made their 3rd consecutive Provincials appearance with a goal of reaching the top 8. On day one the experienced pair posted a 6-1 record in round robin play to earn 2nd place in their pool and advance to Saturday. They opened the championship round vs. a pair from Maples Collegiate that eliminated them from the Gimli tournament two weeks earlier.
Ethan/Sean buckled down in the rematch and earned a 21-16, 21-15 win to advance to the final eight.
Next they played the eventual provincial champions and despite losing, should take great pride in the fact that no other team came closer to beating the champs than they did. They then had two tight 3-game matches, winning one and losing one to earn 6th at provincials, a great result setting high expectations for their grade 12 year.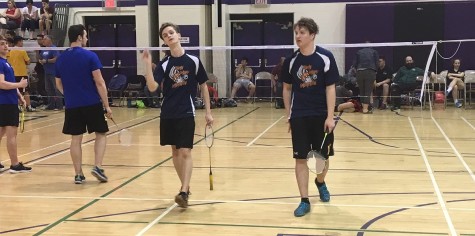 Mixed Doubles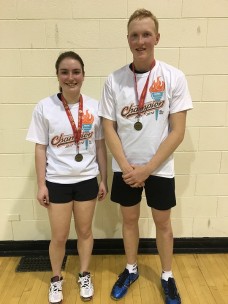 Grade 12 students David Muller and Coral Zamzow were both making their 4th consecutive and final Provincials appearance. Muller, with graduated partner Myles Adamchuk, had earned 4th & 5th place finishes at previous provincials, while Zamzow also finished 5th a year ago in Mixed Doubles with partner Kristen Bender. After an undefeated high school season winning the Gimli tournament, sectionals, and zones they entered provincials with a goal of earning a provincial medal in their last provincials experience.

The pair opened slowly in game one on Friday with some unforced errors and an early deficit of 8-4, but regained their form in the back half and pulled out a 21-13 win. In their next 6 round robin games no team earned more than 10 points and they finished Friday with a perfect 7-0 record to finish first in their pool.
On Saturday they opened with a 21-14, 21-13 win before battling against a tough pair from Kelvin Collegiate (Wpg) and earning a 21-16, 21-13 victory to advance to the medal round. The semi-final saw the team play an opponent with a 8-1 record and they played some of their best badminton of the weekend winning 21-10, 21-16.
In the Gold Medal game they faced a pair from Steinbach (including a bronze medallist from 2017). Being the last game of the weekend they had a full house hanging on every point and the SVRSS duo pulled out a tight 21-17, 21-16 victory to secure the provincial title.
The longstanding members of the badminton club advise this is the second-ever provincial title for SVRSS (Austin Kooistra & Taylor Streifel won boys doubles in 2012).
As a team the SVRSS Tigers sent a record 10 of the 16 players representing the 14 schools in zone 8 and earned 29 team points with a 1st and two-6th place finishes.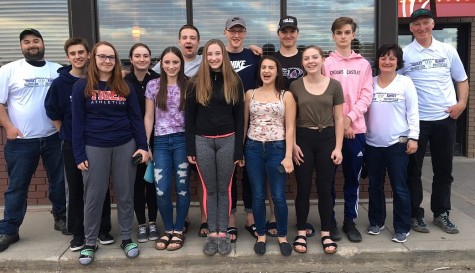 The club had great support in Brandon from the Adamchuk family, the Moncrief family, teammate Austin Mosiondz, parents, grandparents, and community coaches Larry Kooistra and Kyle Lylyk. The team success certainly wouldn't have been achieved without the coaching at the high school level from Larry Kooistra & Larry Henderson and grade school coaches like Will Moncrief in Benito and Mark Simpson (Minitonas School produced 4 of the 10 players).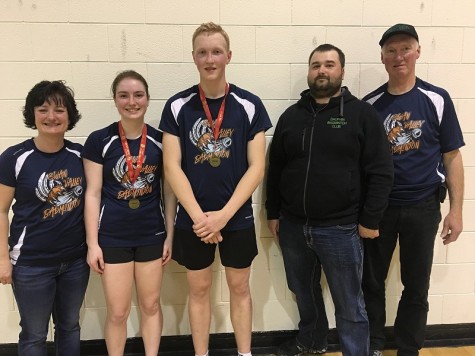 Pictured above: Coach Marni Zamzow, Coral Zamzow, David Muller, Coach Kyle Lylyk, Coach Larry Kooistra
Mosiondz, Muller, & Zamzow graduate this year but Coach Marni Zamzow and the Tigers return 13 of 16 players, along with a solid group of grade 8s, to ensure another quality Tigers group will be preparing for the 2019 Provincials in Thompson.
Correction: In the zone playdowns article the result of Wade Hack/Rhianna Clelland was inadvertently omitted. The pair went 3-0 in the zone round robin, won their first playoff game, and then in the semi-final game lost two close games to a pair from Gilbert Plains to narrowly miss a Provincials appearance. They'll certainly be looking to take the next step to provincials in 2019.