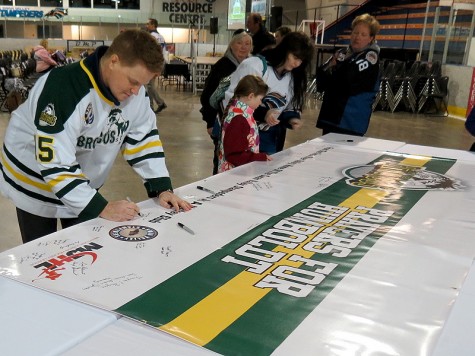 Submitted by: Sandy Ellingson |Residents of Swan River Valley gathered together on Sunday, April 22 at 3pm in the Centennial Arena to pay tribute to the lives lost and to pray for all those impacted by the Humboldt Broncos bus accident tragedy.
Stampeder Chaplain Chris Staniland welcomed everyone to the service. Cramer Coulthart, Swan Valley Stampeders Governor, spoke on behalf of the Stampeder organization on the unimaginable accident that hit close to home and offered words of support and encouragement to the Humboldt Broncos. Mayor Glen McKenzie spoke on behalf of the Town of Swan River about our resilience as Canadians and how we stand by one another through difficult times.
After opening remarks, 16 candles were lit to represent the 16 lives lost in the accident. Candle lighters included local community residents that represented the Swan Valley Stampeders, billet families, former Stampeder players, Stampeder board members, current hockey players and members of the hockey family. Following the candle lighting, the names of those lives lost in the accident were read and a moment of silence was observed. Pastor Byron Hardy then led a time of prayer, praying for the grieving and those recovering from the accident.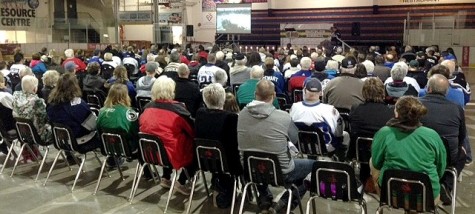 A video tribute to the Broncos, compiled by Cody Manchester, was shown that included photos of the Humboldt Broncos along with various photos taken around the Swan River Valley showing our community support for Humboldt.
After singing Amazing Grace together, there was a time of prayer for the first responders led by Ian McKay, for the trauma teams and continuing care medical staff and hospital staff led by Rachel Dahl and prayers for the Broncos organization, the Humboldt community and the SJHL led by Chris Staniland.
Chris Staniland gave the Chaplains address, offering words of comfort and encouragement to those impacted by the Humboldt tragedy and for any one who has experienced their own grief. In closing The Lords Prayer was said together.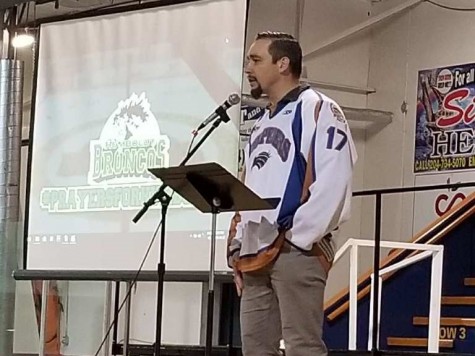 Prior to the service, a silver collection was available at the door that will be sent to the Humboldt Broncos Foundation, Swan River Minor Hockey took t-shirt orders with proceeds going to the Broncos and a people signed a "Prayers for Humboldt" banner, including words of encouragement that will be delivered to Humboldt.
If you were unable to attend the event and would like to sign the banner, it will be available to sign at the Town of Swan River office from Monday, April 23-Friday, April 27 during office hours.
The Swan Valley Stampeders Jr. A hockey club and the Stamps Chapel program would like to thank the local businesses, community groups and volunteers that assisted in putting the event together. Thank you to all those who attended and showed their support for the Humboldt Broncos.