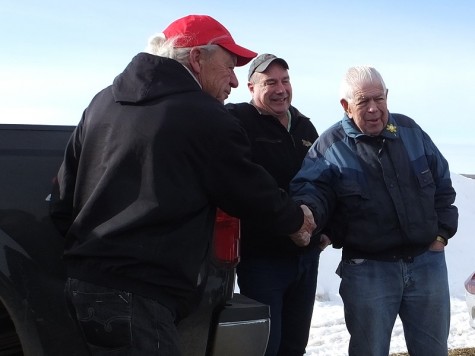 Pictured (L-R): Reeve Bill Galloway, Councillor Irwin Steen, Ken Sutherland
ValleyBiz Story | On March 27, 2018 the Municipality of Swan Valley West (SVW) held a ceremony to dedicate a Commemorative Road Sign for Ken Sutherland Drive at Road 220 N on Hwy #10 in honour of Ken Sutherland's contributions to the community. It was a special day for the dedication as it took place on the same day he celebrated his 85th Birthday.
"We are all here for a very good reason, that is to honour, an individual who needs no introduction, one of the nicest people I have ever met, of course that is Ken Sutherland." said SVW Reeve, Bill Galloway. "His volunteerism once he retired is not called into question. It is my pleasure on behalf of the residents of Swan Valley West to honour Ken with a sign that will be here in perpetuity."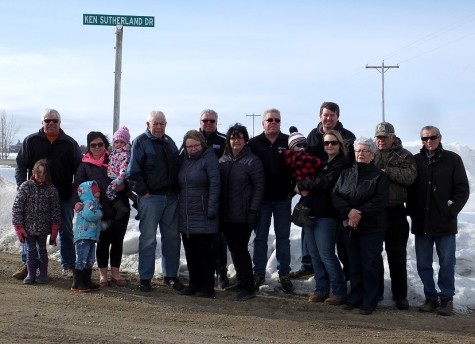 Ken Sutherland was born and raised in the Swan Valley and learned early the importance of helping others. His son, Brian Sutherland explains, "My Dad often tells us there were people from other families, who had nothing, eating at their house at least 3 or 4 times a week. My grandpa was a good hunter so, he didn't have lots of money, but he always had food." he said. "I think that is what got him into that – helping people, that's what he wants to do."
After serving with the RCMP in Alberta, Ken moved back to the Valley in 1977. When the Bowsman Curling Rink burned down he, along with other local residents, raised money and contributed their own labour to rebuild the Bowsman Curling Rink which is still in use today. Ken became active in the Bowsman Lions Club and over the years served as President, Treasurer and Vice President and was the District Governor for Manitoba, Northwestern Ontario and North Dakota. He also spearheaded the Lions battery collection program to raise money for the Lions and, to this day, still responds to calls to pick up batteries from farmyards and homes around the Valley.
For 3 years Ken and his wife volunteered with Cancer Care Manitoba and provided transportation for patients travelling to appointments in Dauphin, Brandon, Winnipeg and The Pas for treatments. Any payment he received from Cancer Care to cover gas expenses was donated to the Lions Club.
Ken Sutherland is also well known for selling 50/50 tickets and helping out wherever he is needed. "If you know my Dad, you'll see him." said Brian, "He's always selling tickets. For a good cause, he will go and help anybody."