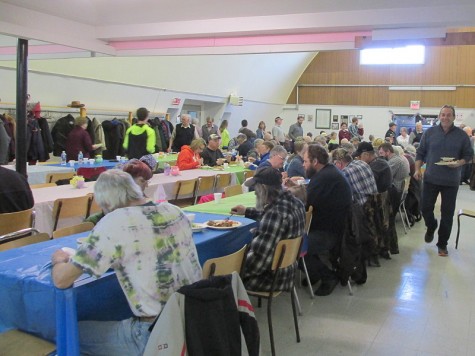 Submitted by: Debbie Soloway | On Sunday March 11, 2018 the Pine River Community Centre opened its doors to 130 guests anticipating a delicious supper and with the aroma of baked chicken in the air it made their mouth water.
The supper consisted of breaded chicken drumsticks and thighs, sweet and sour pork strips served on a bed of rice, orange penny carrots bathed in garlic butter, green string beans in an onion cream sauce and a side bowl of Cesar salad.
The dessert table had 20 types of sweet tooth satisfying treats; from banana cream pie, to all things lemon, pine apple, cheese cakes with fresh strawberries, cherry, chocolate; angel food cake, carrot and chocolate muffins, a truffle and chocolate lava muffins.
Guests enjoyed eating as many different desserts as they desired making it difficult to choose a favorite.

During the afternoon there was live entertainment, with Manual Nakonechny and Elmer Zalischuk both from Dauphin playing their guitar and fiddle, thanks gentlemen. The winners of the two door prizes were Audrey Semeniuk and Adeline Parcey. Congratulations to Monika Buhler the winner of the 50/50 draw of $130.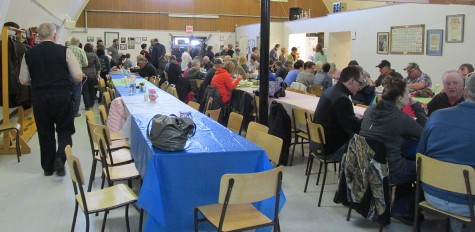 Thank you to the guests for supporting our fundraiser, thanks to the advertisers, ticket sellers, decorator, donators and volunteers. Special thanks to the men (Mark Semeniuk, Dennis Bartko & Orville Soloway) for taking care of the sewer problem that morning. Volunteers are the backbone in all communities and without them most organizations would fade away.
Therefore, get involved in your community and contribute in a comfortable capacity; we welcome volunteers to join us here in Pine River and appreciate every effort. So with our Spring Supper done we plan to see you again in the fall for another delicious meal.