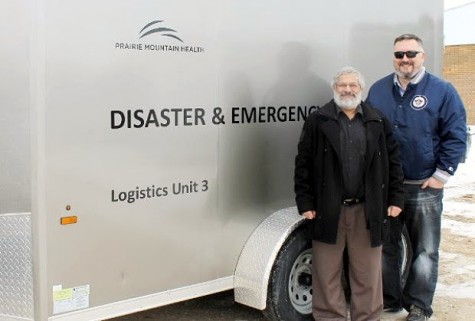 Submitted by: Prairie Mountain Health | The severity of the recent Town of Swan River water supply system issue at the end of January had Prairie Mountain Health (PMH) on high alert. As potable water is a necessity in the provision of health care services, the Swan River incident proved that having emergency planning and processes in place allowed— in this case —for minimal disruption to services within our hospital, personal care homes, community health and primary care centre.
The PMH Disaster and Emergency Preparedness Program (DEPP) received the critical call from Town of Swan River emergency officials around 11:30 p.m. Saturday, January 27th. They declared a state of local emergency due to a lack of incoming water supply to the town water treatment plant. All community areas were being asked to immediately comply with dedicated water conservation measures. Timeframes on finding the cause of the issue and fixing the problem were not readily apparent.
For PMH, this meant automatic activation of its Incident Command System (ICS). Through its ICS, a complete review was undertaken on the impact this would have on all of our health programs and services. The first of many regional teleconferences was held early Sunday morning and our managers and staff came prepared to offer solutions to prioritized challenges. Some of those included potential disruption to key services like the Emergency Room, Operating Room and Dialysis schedules.
DEPP presented an overview of its priorities and challenges to Town Emergency Operation Centre officials and, in turn, were continually updated regarding the status of the water supply situation. These briefings were extremely important to keep everyone informed about situation status.
One of the first areas ICS dealt with was water supply and with assistance from our Materials Management and Maintenance Departments, PMH ensured delivery of bottled water, bulk water jugs, nutrition supplies, hand sanitizers, hygiene products, juice and other deemed essentials to the Swan Valley Health Centre and PCH. Alternate planning continued for laundry, meals, patient care needs, water reduction strategies, community health client/staff needs (which included home care) and systems operations at facilities.
As the scenario unfolded, ICS was able to ensure that we did not have to suspend Emergency Department services. Only a few dialysis patients were transported to a nearby PMH site for treatment early on in the week.
Once the Town was able to get two if its three water pumps working to supply its reservoir later in the week, our ICS stood down.
As you can see, ICS takes into account the many aspects of an emergency situation beyond what could affect the hospital.
We take this opportunity to sincerely thank all of the PMH staff that assisted in managing this incident. We also thank the dedicated staff at the Town of Swan River for keeping us informed in the planning process during the week-long situation. Working together, we remain committed to individuals, families and communities within the Prairie Mountain Health Region.