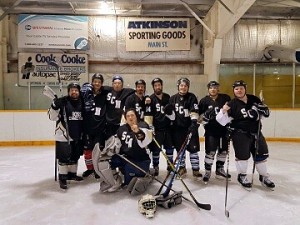 Submitted by:
Leon Church |
The second annual Mighty Bucks Loonie Toonie Tournament went on as planned in Bowsman on the weekend, Feb 23 & 24th, 2018.

The host Bucks finished the weekend with a 3-1 record, but failing to reach the finals with a 2-1 loss to the SCN Braves in a semi final. The other semi final saw the Blackhawks defeat the SCN Red Wings.
The Braves would go on to win in the finals against the SCN Blackhawks, finishing their weekend with a 2-3 record.
The Bucks would like to thank all the teams amd officials for taking part in the weekend. As well as the rink staff and tournament volunteers that made it possible. And a final thank you to our sponsors, Atkinsons Sports Excellence and The Bowsman Arena.
The Mighty Bucks intend to host the Loonie Toonie Tourney again, same time next year.