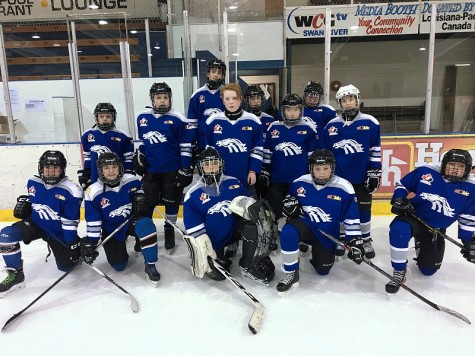 Submitted by: Craig Zamzow and Angela Mullin | Pictured Above, Pee Wee B Stampeders: Back Row – Brandon Grazier, Jett Cook, Liam McArthur, Jack Mullin, Henry Branconnier, Comrie Quill, Carter Addis, & Noah Weir Front Row: Crystal Zamzow, Mackenzie Lukey, James Parsons, McKenna Gray, Nolan Woodward

On the weekend of Feb 24-25, 2018 the Pee Wee B Stampeders hosted their home tourney. In their opener on Saturday morning, they faced a strong Flin Flon Bombers squad. The Stampeders wound up on the short side of a 5-0 score.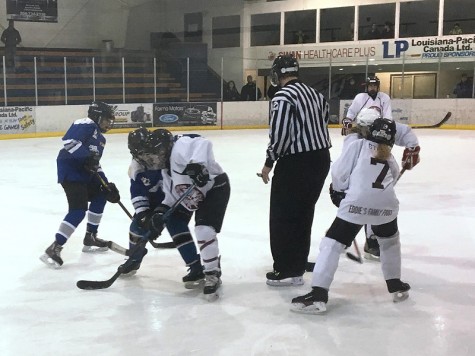 Pictured above: Mckenzie Lukie battling in a face off
On Saturday afternoon they played The Pas Huskies and their offensive game got on track. Brandon Grazier and Henry Branconnier each found the twine twice, while Comrie Quill and Noah Weir also chipped in a goal in a 6-0 win. James Parsons picked up his 3rd shutout of the season.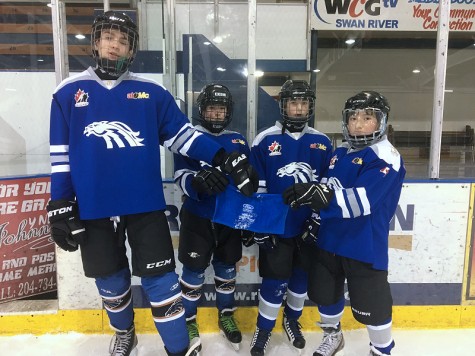 Pictured Above: Liam McArthur, Crystal Zamzow, Henry Branconnier & Comrie Quill Formo Motor Hustle Award winners for Swan River
On Saturday evening the Stamps faced the Waywayseecappo Wolverines with a spot in the A final on the line. The Stamps led 1-0 after one period and 3-0 after two periods on the way to a 7-0 win. Comrie Quill and Henry Branconnier with two goals each. Brandon Grazier, Carter Addis, & Nolan Woodward added singles. James Parsons picked up a second consecutive shutout.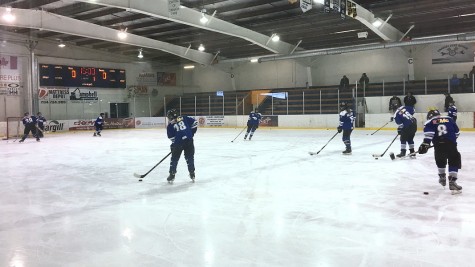 Pictured above: Swan River warm up before A Final
On Sunday morning, the Stampeders had a re-match vs Flin Flon. The Bomber led 1-0 after one period and 3-0 after two periods. Carter Addis scored on the first shift of the third period to cut the lead to 3-1 but the Stampeders couldn't find the back of the net again as the Bombers claimed the A side title.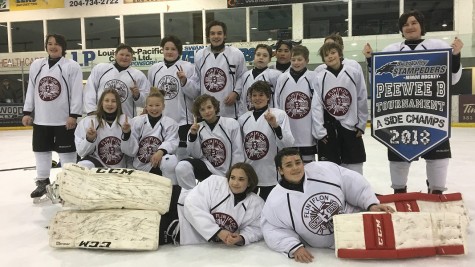 Pictured Above: Flin Flon Bombers – A Side Champs
Pictured Right: The Eardly boys, formally of Swan River, accepting the banner on behalf of Flin Flon
The club hits the road next weekend to Waywayseecappo for their 8-Team tourney opening on Saturday AM vs Tri-Valley.
As a parent group we would like to thank our Sponsors, arena Staff, Referees and of course the coaches.

Sponsors: Formo Motors, Northern Specialties, Epicure, Aspire Dental, Jagged Little Pillows, Y Not Johnny's, Swan Valley Credit Union, Pizza Place, Dairy Queen, Rodan & Fields, Cook Brothers, Atkinson's Sports Excellence, Buds N' Blossoms, Mervs Audiotronic, Families of the Pee Wee Be Team, Swan Valley Stampeders Pee Wee B Draw.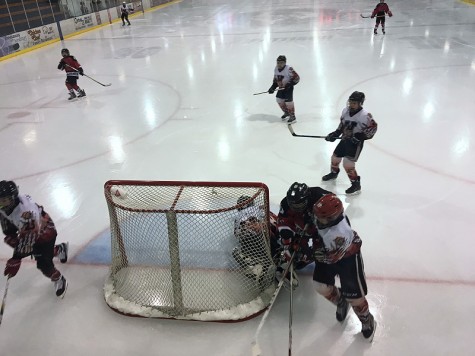 Pictured above: Battle between The Pas & WayWay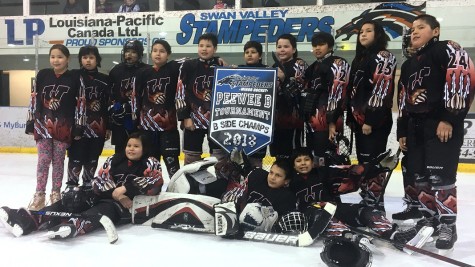 Pictured above: Waywayseecapo winning the B side!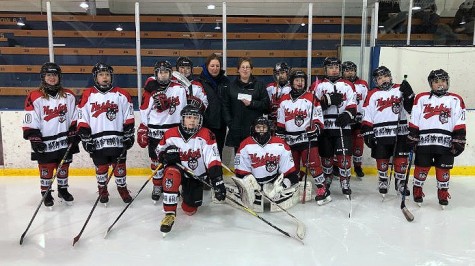 Pictured above: The Pas Huskies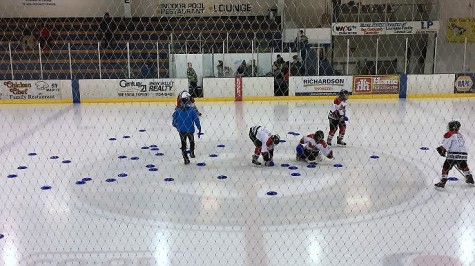 Our parent group hosted a frizbee toss, the proceeds were donated to The Oscar house on behalf of The Pas Huskies who are in the running for a good spirit award! We donated a total of $150.00. Good luck to the Huskies!