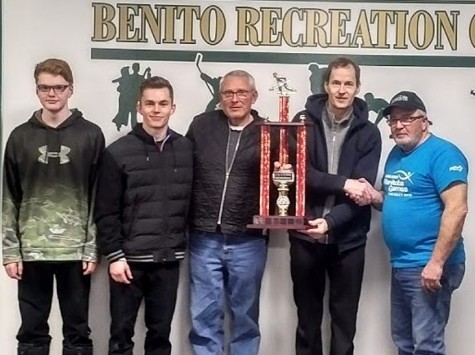 Pictured above: 1st in the 1st Event Winners sponsored by the J.A Lyons Memorial Trophy. Presenter Tom Lyons congratulates Skip Neil Watkins, Third Marty Anderson, Second Carter Watkins and Lead Karter Meyn
Submitted by: Leigh Osatchuk | The Benito Recreation Complex was a busy place this past week. On February 13-18, 2018, the Complex hosted its 11th Annual Mixed Curling Bonspiel, welcoming 28 teams from around the Swan Valley and Saskatchewan. The club welcomed our local regular curlers and teams who return year after year for the comradery and love of the game.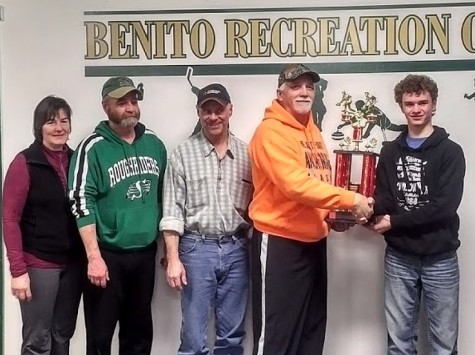 Pictured above: 1st in the 2nd Event Winners sponsored by Benito Premium Meats. Presenter Hunter Pierce congratulates Skip Brad Knutson, Third Richard Johnson, Second John Knutson and Lead Vi Knutson
The spiel kicked off on Tuesday (Feb. 13, 2018) with two draws, the first starting at 7:00 pm and the last beginning at 9:00pm. The Shaker City Lounge and Concession were open for business and offered a full menu of rink favorites. A new suppression system, deep fryer and grill were recently upgraded in the concession which allowed for some new menu additions. During the week the building hosted public skating and on Thursday night the local Kenville Flyers took to the ice and hosted the Silver Seven. Curling and hockey all under one roof!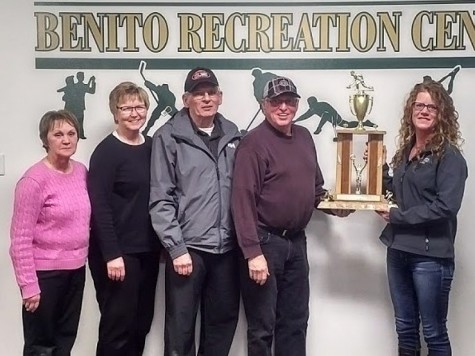 Pictured above: 1st in the 3rd Event Winners sponsored by the Swan Valley Credit Union. Presenter Kim Pierce congratulates Skip Bob Lumley, Third Brian Hubic, Second Joy Hubic and Lead Donna Lumley
Saturday highlighted the bonspiel supper with a live 50/50 and penny auction. Kyla Kluke along with her helpers delivered a fantastic meal for over 120 people, young and old. The lounge hosted Diane Prekaski from Norquay, Sk who entertained fans with her musical talents.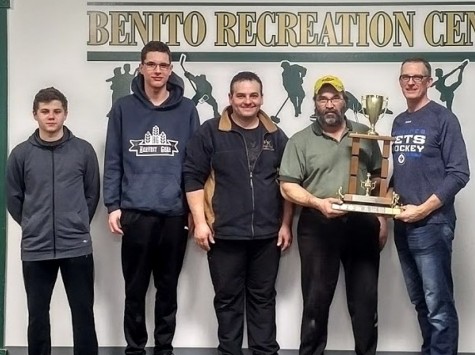 Pictured above: 1st in the 4th Event Winners sponsored by the W.F Schneider & Son Ltd. Presenter Scott Schneider congratulates Skip Byron Zbirun, Third Darwin Homeniuk, Second Weston Keller and Lead Austin Homeniuk
The weekend wound down on Sunday with the finals of the four events. After the final rocks had been thrown and everyone was done shaking hands the Shaker City Lounge filled for presentations, prizes and thank yous. Benito Rec Board president Rick Kinaschuk addressed the crowd, "Thanks to Draw Master Ken Newell and to all the event sponsors. Thank You to all the businesses who donated prizes and thank you to all the community volunteers in the lounge and concession. " He also handed out a thank you to the guys who help with the ice making and with the grooming during the bonspiel. He reminded everyone that it's the regular curlers and the volunteers who keep the curling bonspiel alive. Before he continued with the presentations, a familiar voice commended Rick for all his hard work and dedication to the facility and to the bonspiel.
Presentations followed the heart felt acknowledgments. A terrific weekend of curling, kinship and community came to a close.