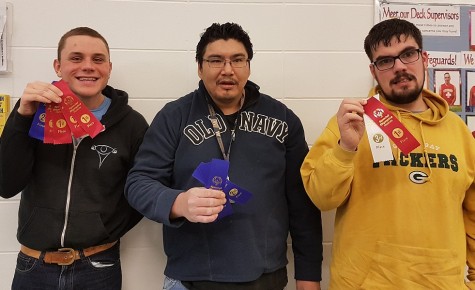 Submitted by: Shirley Todosichuk | Three swimmers from the Special Olympics Parkland Region Tiger Sharks Swim Team had their 1st meet of the season at the Winter Waves Swim Meet in Winnipeg on November 25, 2017 and all did very well.
(Pictured above: L-R) John Schabert won 4-1sts in the 25m, 50m + 100m freestyle and 50m backstroke and a 2nd place ribbon in the 25m backstroke. Joe Cook won 3-2nd place ribbons in the 25m + 50m freestyle and 25m backstroke. Ricky Zimmer won 1st in his division for the 25m backstroke and 3rd in the 25m freestyle.
John and Ricky are training hard to improve their skill, strength, and cardio fitness as they are both representing Manitoba at the 2018 Special Olympics Summer Games in Nova Scotia in August. John will be competing in Swimming and Ricky will be participating in Bocce.