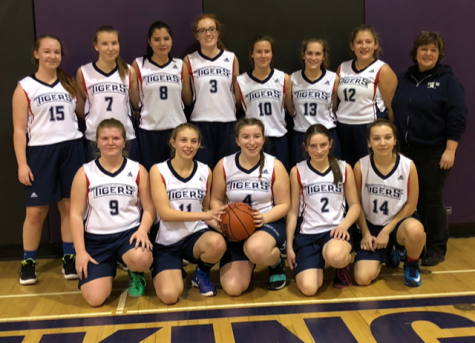 Submitted by: Lise Fraser | Back Row: Erica Sembaluk-Hart, Lauren Klatt, Cheyenne Clemons, Adria Bateman, Ireland Staples, Brynlee Spencer, Brenna Schure, Coach Lise Fraser Front Row: Sydney Gilroy, Caitlyn Stewart, Sydney Fedorchuk, Bryn Zamzow, Josie Black
The JV Girls Gr 10s Basketball Team travelled to Brandon early morning on Friday, January 12, 2018 to participate in the Triple Crown Challenge. The Tigers arrived at Vincent Massey and within 20 minutes were on the court against the host team. The Tigers put forth a valiant effort, despite the 'bus legs' losing 52-37 to Vincent Massey. Adria Bateman was the player of the Game for the Tigers, scoring 12 points, and 8 rebounds. Brenna Schure added 10 points and 5 rebounds. Defensive player of the Game was Sydney Fedorchuk with 6 rebounds.
The Tigers played against their inter-zone rivals, Neelin High School, at 5:45 on Friday. This was an important game for the Tigers. The score was close for the first quarter, the Tigers were ahead by only two points. The Tigers utilized a full court press and with steals from Ireland Staples, Bryn Zamzow, Sydney Gilroy, Brynlee Spencer they started to pull ahead and by half time were ahead by 12 points. Neelin had difficulty containing the combined scoring power of Bateman and Schure, as they chipped in 25 points collectively. Lauren Klatt, Staples and Josie Black added 8 points each. Swan Valley Tigers beat Neelin convincingly 62-37. The player of the Game was Ireland Staples.
Final game of the tournament for the Tigers was on Saturday against Crocus Plains Regional School. The Tigers scored two seconds into the game on a special play from the opening tip-off; Bateman tipped the ball to Schure, who lobbed a pass to Staples cutting to the basket for a layup which took Crocus by surprise. The score at the end of the first quarter was 25-2 for the Tigers, 35-3 at Half time. The Tigers put in a dominating performance with their defensive and offensive play. Sydney Fedorchuk scored 11 points with an overall shooting percentage of 71% from the field. Caitlyn Stewart, Bateman, Schure and Black shot 67% from the field with a combined point total of 30. Klatt, Staples and Erica Sembaluk-Hart shot 60%. Two players, Cheyenne Clemons and Sydney Gilroy shot 100%, adding a bucket each to help their team. The final score of the game was 62 – 7 for the Tigers.
The player of the Game was Erica Sembaluk-Hart.
The next action for the Gr 9 JV Girls basketball team is the upcoming tournament in Souris on January 19, 20th. Gr 10s will play in the Dauphin tournament on Feb 2-3.