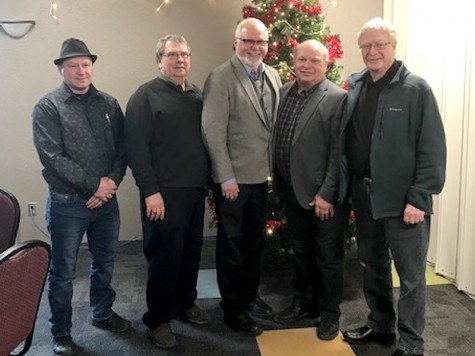 Media Release | At an open house on December 20, 2017 Rick Wowchuk, MLA for Swan River, announced that the Manitoba government is investing in important infrastructure in the Swan River constituency. Through the Small Communities Fund, the Progressive Conservative government is providing $250,000.00 in the Town of Swan River 6th Avenue Waste Water Pump Station Upgrade.
"Our government understands that small communities and their residents depend on investments in important local infrastructure projects," said Wowchuk. "With the Small Communities Fund, we are supporting priority, local projects across Manitoba with investments in infrastructure that facilitates growth, improves the quality of life and boosts regional development."
Wowchuk was joined by Robert Sopuck Member of Parliament for Dauphin-Swan River-Neepawa, Town of Swan River Mayor, Glen McKenzie, Councillors Duane Whyte and David Moriaux to make the announcement in Swan River.
Robert Sopuck, Member of Parliament for Dauphin-Swan River- Neepawa, was very pleased to attend the Press Release, that the federal government contributed $500,000.00 towards the project, as part of the federal/provincial/municipal cost sharing agreement under the Small Communities Clean Water and Wastewater Fund.
Provincial funding will cover one-quarter of the overall eligible project costs, which will be matched by one-half contributions from the federal government and the one-quarter by the Town of Swan River for a total of $1,000,000.00.
The Small Communities Fund supports priority public infrastructure projects in communities with fewer than 100,000 residents across Canada. The Manitoba and federal governments are using the fund to invest in 42 projects in 37 communities across the province, with each of the two levels of government contributing more than $10 million toward the estimated $34.6 million in total project costs. The projects will improve drinking water, wastewater management, culture, tourism, recreation and public transit across Manitoba.