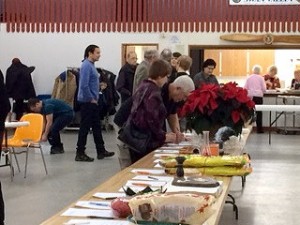 Submitted by:
Judy Kostyshyn |
The annual Swan River Constituency NDP Christmas Supper was held at the Swan Valley Museum on Sunday, December 10th, 2017. Following cocktail hour, guests enjoyed a delicious ham supper with all the trimmings.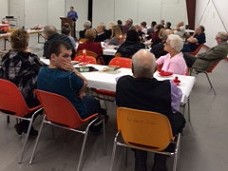 Ron Kostyshyn, President, welcomed Wab Kinew and his wife, Dr. Lisa Monkman, on behalf of all who attended.
Wab, as guest speaker, entertained questions following his address to the crowd.
A "stork basket" was presented to Wab & Lisa to welcome their upcoming baby boy in May. A large variety of silent auction items were up for bids.
As well, a very successful 50/50 draw was held. Thank you to all who attended and supported the event.
The Swan River NDP extends their warmest wishes to all for a very joyous Christmas and a healthy, happy and prosperous New Year!