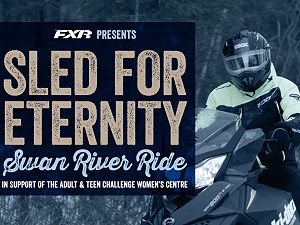 Submitted by:
Aaron Murray |
FXR Sled for Eternity
Snowmobile Ride
February 10, 2018
Swan Valley Historical
Museum Swan River, MB
Registration:
8:30 am – 10:00 am
2017-18 Snopass required
Early bird registration $50 before January 13th ($75 after). Passenger is $35.
If you're not a registered rider but would like to come for the dinner it is
$25 for a dinner ticket (12 & over)
Join us for the 2nd Annual FXR Sled for Eternity Swan River snowmobile ride in support of Adult & Teen Challenge. Registration includes ride participation, meals, a chance at some great checkpoint draw prizes and awesome fundraising prizes! Register and start fundraising early for your chance to win the grand prize of a 2017 Ski Doo Freeride!