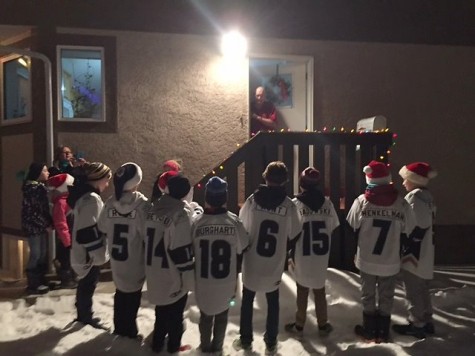 Submitted by: Angie Henkelman |The Swan Valley Peewee A Stampeders hockey team enjoyed spreading Christmas cheer to Swan River residents on Friday, December 8, 2017. The team sold Carol-grams (singing Christmas Carol telegrams) for $20.
At departure on Friday, they had more than twenty bookings including stops at the Hospital and Lodge, Lions Manor, Westside Lodge, Ray Atkinson's, Pizza Place, Formo Motors, River Valley Powersports, Sauder Trucking, Aspire Dental and a special stop at Jane Dale's.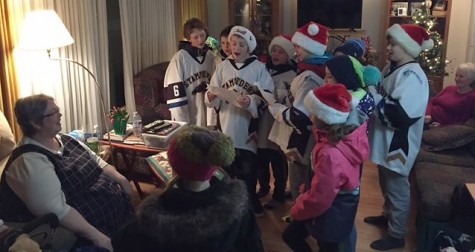 Jingle Bells, Rudolph the Red-Nosed Reindeer, The Hockey Song, We Wish You a Merry Christmas and even a rendition of Happy Birthday was sung by the team.
Many thanks for the generosity to all who supported our fundraiser and we look forward to singing again next year.
The Peewee A Hockey Team is gearing up for a busy weekend of hockey in Swan River for their home tournament on December 15-17, 2017. Come out and cheer them on during their first game against The Pas on Friday, December 15, puck drop is 12 noon.