Submitted by: Jayne Leadbeater | Entertainment was the Theme for this year's Christmas Concert of the Swan Valley Community Band on December 5, 2017, with performances from the Band, a Quintet, and a Solo.


Brass Qunitet "Tarnished Brass" Kevin Salmi, Jayne Leadbeater, Julie Kooistra, Kim Kosokowski, David Gnida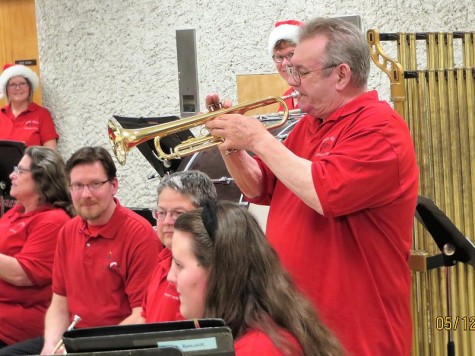 Rick Houle performing his Solo–"Wooden Heart"
About 60 people enjoyed themselves listening to music & participating in a Christmas Sing-Song led by Phyl Friesen, accompanied by Sara Salmi, who is also our Alto Clarinetist, on piano.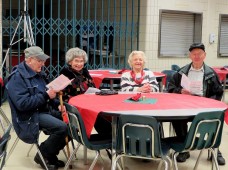 Above right: Some of our faithful following – The Kerns & Matejkas.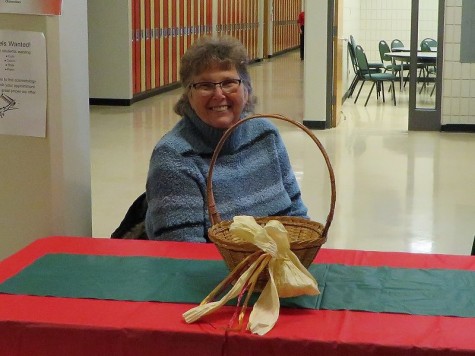 Rita Houle who is our faithful Door Person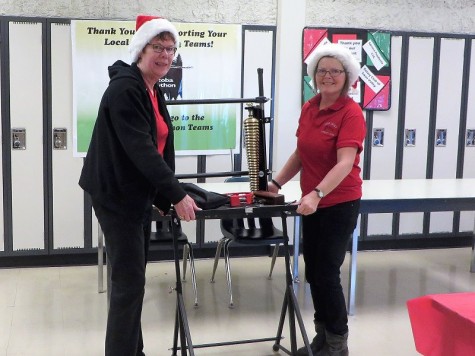 Percussionists Phyl Friesen & Stephanie Jersak moving equipment into the Cafeteria from the Band Room. And, it all has to be moved back right after the final music piece. Many hands are required to do all this!
Julie Kooistra has led us for the past 23 years, continuing with our 24th Christmas Concert. Glenda Turton, SVRSS Music Director, and Kevin Salmi, Benito School Music Director/Academics, lended a hand for a few music pieces which allows Julie to play as well. It also trains the group to pay attention to the Director. A VERY steep learning curve for most of us!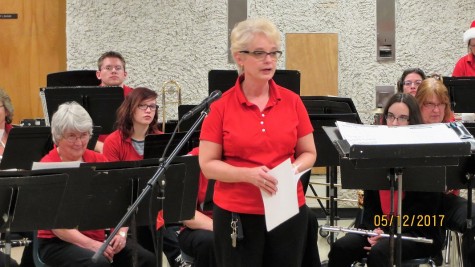 Director Glenda Turton lead us in "Procession of the Sorcerers" from the movie "Fantasy" and "Purcell Cortege".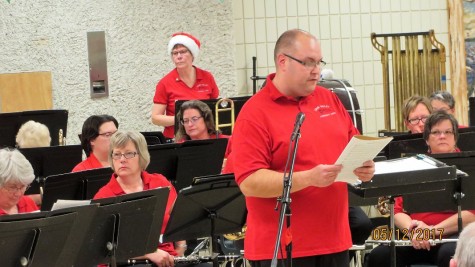 Kevin Salmi directed "Horkstow Grange".
This year for refreshments our local SVRSS Environmental Teams were hired to supply Christmas fair and a Bake Sale table. They are hurriedly fund-raising for the Provincial Environmental Competitions to be held in Churchill. And, due to the railway being out of commission, extra expenditures have been added to their already monumental expenses.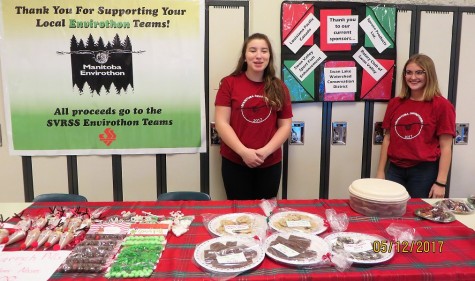 Please join us 17 January, 2018, when we start our next semester, ending in May with our Spring Concert. We encourage anyone who wants to re-learn, or learn, an instrument to participate once a week on Wednesday's 7:30 pm at the SVRSS Band Room.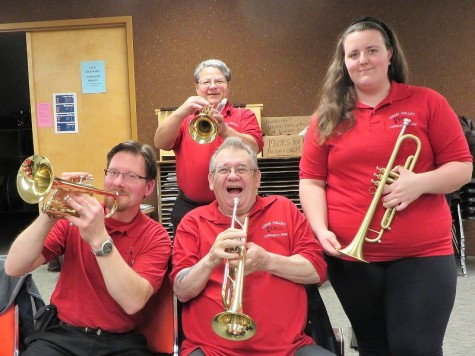 The Trumpet Section–Kim Kosokowski, David Gnida, Rick Houle, Jessica Kovacik


SV Community Band is extremely fortunate to have both a Basson and an Alto Clarinet amongst our group. It is a rare occurrence.