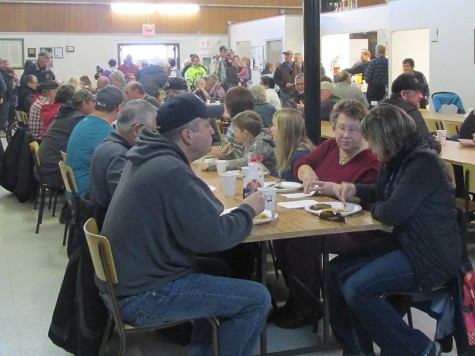 Submitted by: Debbie Soloway |In spite of a winter storm dumping seven inches of snow on Pine River on Saturday November 4th and the icy road conditions; the Livingston Family Medical Fundraiser went on as scheduled on Sunday November 5th.2017.
The Pine River Community Centre was the place to be on Sunday morning as the day started off with a pancake breakfast from 8 – 11 am. The aroma of cooking sausages, pancakes and coffee filled the air, creating a wonderful endless lineup for breakfast. There was a steady stream of people coming through the doors all morning, many carried donations to help support the events to unfold as the day progressed.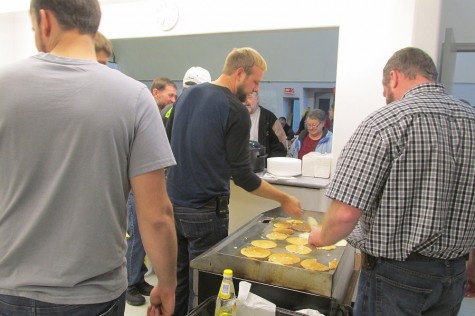 The Pine River Lions Club and Pine River Fire Department along with community volunteers kept the grills busy flipping pancakes and cooking the sausages, clearing tables, washing dishes, selling tickets and baked goods.
There were 50 silent auction packages, each consisting of many awesome prizes and each valued at over $100. There were prizes for all ages and some for our animal friends too; examples are: items for everyday use in the house hold, garage, mechanics, automotive, clothing, electronics, tickets, coupons, certificates, food, toys, books, pet essentials and much more.
During and after breakfast a bake sale took place in the dance hall area of the centre, there were two tables full of freshly baked, mouth watering homemade goodies. The fresh donuts were gone early but there were many more choices to choose from; cakes, cookies, tarts, pastries, bread, buns, dainties, loaves, deep fried perogies, pizza pops, pies and more. All the shoppers had their sweet tooth cravings fulfilled as they carried full bags of goodies.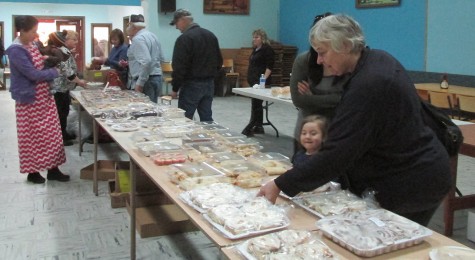 Following the breakfast the live auction started with Lawrence Eisner donating his auctioneer service. There were 66 wonderful items donated to the live auction such as; homemade wooden cabinet & benches, canola oil, wooden crate of natural food products, pair of trailer tires, gift & accommodation certificates, painting, baking, toys, indoor & outdoor furniture, animal & bird essentials, taxidermy beaver, jacket, hand sewn quilts & pillows, outdoor activity items, fire extinguisher, power saw and more; but to conclude the auction were the 4 Winnipeg Jets Tickets. Everyone had fun bidding and exchanging jokes back and forth as they tried to get their neighbor to bid higher. Some of the bidding wars drove prices quite high (which was our goal); but remember "there are no friends at an auction sale". Great bidding and thanks to the purchasers.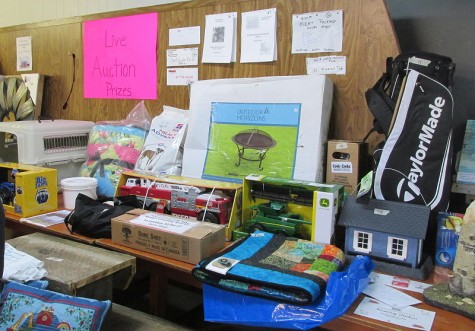 The Pine River 4-H club sold 50/50 tickets for a few weeks and collected $405 to donate to the family; the other portion was dispersed through the drawing of three winners receiving different percentages. Thanks to the children that sold the tickets to support their friend Zane. The Livingston family and our little community are so amazed, thankful, overwhelmed and grateful for all the support, donations and volunteers. We thank everyone from the bottom of our hearts.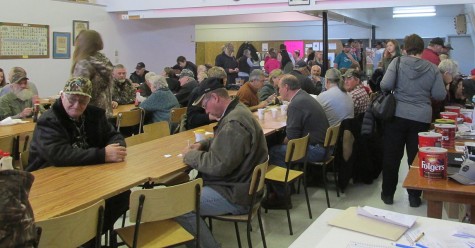 Zane had his first surgery and now must heal at home before the next step in his recovery can be addressed. There will be many trips of travelling back and forth to Winnipeg Hospital for an undetermined length of time. Therefore if you were unable to attend the community fundraiser and you want to help support the Livingston Family Medical Fundraiser; please feel free to send a cheque to:
Dave & Kim Livingston, P.O. Box 82 Pine River, MB. R0L 1M0
or there are monetary donation sheets located at:
Kolisnyk's General Store in Cowan 204-569-4836;
Bee Gee's Stationery in Swan River 204-734-3033;
Urbanowski's Garage 204-263-2101; Semeniuk Lucky Dollar Store 204-263-2108 Soloway Outfitter's 204-263-2643 all in Pine River.  
Thank you again and may God Bless You.