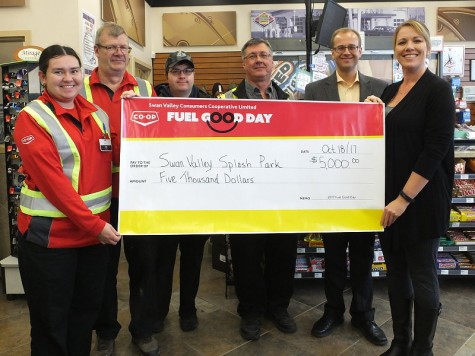 Submitted Story | ValleyBiz Picture | Swan Valley Co-op put out the call and the community answered.
As part of Fuel Good Day on Sept. 19, 2017, 7 cents from every litre of fuel purchased at Swan Valley Co-op Gas Bars were donated to the Swan Valley Splash Park. At the end of the day, Swan Valley Co-op members and customers helped raise $3,441.17 for the organization that is fundraising to construct a splash park in our community. The Board of Directors then approved to top up the amount raised to a total of $5,000.00.
"Swan Valley Co-op is committed to serving the community and giving back, not just on this day but throughout the year," said Colin Peters, General Manager of Swan Valley Co-op. "Fuel Good Day is one of many ways we fuel our communities, whether it's by sharing profits with our members or supporting local organizations that are doing important work right here in our own backyard."
Since 2014, Swan Valley Co-op returned $10 million to its members in cash back and equity payments and contributed more than $235,000 to local organizations and causes, including Fuel Good Day. Fuel Good Day was celebrated at more than 380 Co-op Gas Bars throughout British Columbia, Alberta, Saskatchewan, Manitoba and northwest Ontario, each supporting a selected local charitable or non-profit organization or initiative. The combined result from across Western Canada will be released later in October.
Swan Valley Co-op is a retail co-operative that has proudly served the Swan Valley for more than 77 years. Today, Swan Valley Co-op serves more than 6,900 members — and many more customers — in the Swan Valley area, where it operates 7 locations.