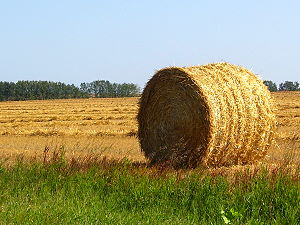 Northwest Region Crop Report Prepared by: Manitoba Agriculture
October 10, 2017 |
Northwest Region
Harvest progressed in the Northwest region throughout the week although operations took place around periodic rainfall events. Rainfall amounts were 10 to 30 mm around Swan River, close to 40 mm in The Pas, and trace throughout the rest of the region. Daytime temperatures in the high teens allowed combining to proceed. There was a heavy, killing frost throughout the region mid-week. Crop quality is generally rated as average throughout the region with a percentage of the spring wheat rated as above average in the Roblin area and below average around Swan River. Field work is underway as conditions allow.
Canola harvest moved along steadily over the past week with Roblin reported as nearly complete, the Swan Valley area approximately 90% complete, and good headway made this week in the Dauphin area. Yields for the entire region are ranging from 50 to 60 bu/ac.
With the exception of later seeded fields, the spring wheat harvest is nearing completion with 95 to 100% of the crop harvested throughout the region. Some late seeded cereals are high in moisture so harvest will include drying or waiting for moisture levels to drop to where safe storage with aeration is possible. Harvest of barley and oats is generally complete.
The hard killing frost throughout the region will help to dry down soybeans and quinoa. Good harvest progress was made on soybeans around Dauphin and approximately 50% of the soybean harvest is completed in the Swan Valley. The soybean crop remains standing in the Roblin area. Reported yields range from 35 to 50 bu/ac.
Most of the flax crop remains standing. Volunteers and weeds continue to actively grow in harvested fields. Some fertilizer banding is underway in the region.
Corn silage harvest is progressing well with operations likely wrapping up this week. Cattle continue to be moved off summer pastures. With the hard frost last week and this weeks forecasted favorable haying conditions, producers may take an additional hay cut on some fields.