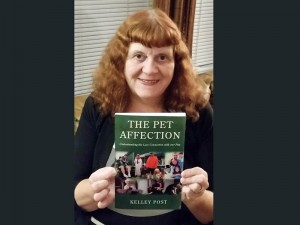 Submitted by:
Corey Hurren |
"The Pet Affection"
By former Valley resident
Kelley Post
Swan Valley Co-op
Sat. October 14, 2017
Proceeds to Lions Foundation of Canada Dog Guides.
The subject of the book is about "Understanding The Love Connection With Our Pets". It sells for $18 and makes a great Christmas present for pet lovers.
"Most of you will remember me as Kelley Philipp from Bowsman. I live in Winnipeg now and and I am a social worker for the Provincial government. My first book "Yes You Can! Bloom Where You are Planted" was released in 2015.
I have found that people who love animals are the kindest most caring people in the world! I have also found that the relationships between people and their pets is amazing and wonderful. I have become so intrigued by the impact that our animals can have on our lives, that I have decided to write a book about that very topic entitled "The Pet Affection".
Many pet owners and organizations have contributed stories and articles to this book articulating the impact of the person/pet relationships. Through my studies and research I have gained an understanding of the psychological, physical, and mental health benefits of the relationships that we share with our pets.
"The Pet Affection" has stories and articles from twenty-seven contributors including Beatrice Barnard, who is a Lions Club Director for Manitoba, Northwest Ontario, and Nunavut Chair for Lions District 5M11. Beatrice tells the story of the Lions Foundation of Canada Dog Guides. Beatrice also tells her own personal dog story related to her struggle with cancer.
This book has been set up as a fundraiser for different animal related organizations, including the Lions Foundation of Canada Dog Guides. You may already be aware that it costs $25,000 to raise up and train a registered guide dog. These dogs are provided at no cost to Canadians with disabilities."
Kelley and her husband Larry are the owners of Riplees Ranch Winnipeg, the Manitoba branch of a pet food distribution company that offers Canadian natural holistic pet food and treats. They are also members of the Winnipeg West Lions Club and have been granted Life Membership to the Lions Foundation of Canada Dog Guides. One of the Winnipeg West Lions Club main fundraising objectives is supporting the Dog Guides.