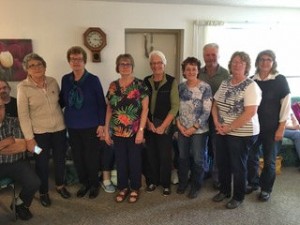 Submitted by:
Henry Barkowski |
Approximately 35 people attended an Open House on September 2, 2017 at the Pioneer Lodge in Minitonas. The purpose of the event was to inform seniors living in Minitonas of services, supports and opportunities available to them.
Pictured above: (left-right) Marlene Lasuik, Carroll Henderson, June Hart, Ida Theodore, Pat Foster, Ed Yablonski, Carol Sigurdson and Marg Terry
Henry Barkowski welcomed everyone on behalf of the Minitonas First Baptist Housing Corporation. He introduced the board consisting of Dennis Kalynuk, Tim Jersak, Pastor Steve Black and Marilyn Natyna. Several guest presenters were welcomed and provided valuable information on behalf of their respective organizations.
Barry Waito, owner of the Minitonas Community Store, explained the shopping and delivery service the store provides.
A congregate noon meal program is available to all seniors Monday through Friday at the Pioneer Lodge. June Hart, the primary cook explained how to access the program through the purchase of meal coupons and giving prior days notice for participating when not a regular. She also mentioned that take out service is provided with notice.
Handivan transportation is available 5 days a week and with adequate notice on weekends depending on driver availability. Marg Terry and Carol Sigurdson, the drivers, explained the program and that in town rates are $5.00 and a round trip to Swan River is $10.00.
Carroll Henderson explained how to access the Cancer Care volunteer driver program available to cancer patients to get to Dauphin, Brandon and Winnipeg for appointments and treatments when no other means of travel are available. The program changed in August and Carroll no longer the volunteer coordinator as that function has gone to the Winnipeg office. Carroll left information on how to access the program and indicated she would assist anyone in contacting the office. Overnight accommodation at a reasonable rate is available at Murray House in Brandon.
Ida Theodore, volunteer board member for Services to Seniors, explained the comprehensive services provided by her organization and how to access them. Ida left some literature on services available. She welcomed people to visit their office in Swan River.
Pat Foster also of Services to Seniors, presented valuable information about Life Line, an emergency alert system and how it works.
Recreation and socializing is important to seniors. There is a walkway and outdoor exercise park available in Minitonas thanks to the Age Friendly committee. Ed Yablonski and Marlene Lasuik presented opportunities to participate with the Happy Gang Seniors at the Town Hall on Tuesdays. Activities include floor shuffle, board games and socializing.
Dennis Kalynuk explained how stick curling has extended the opportunity to continue curling when traditional rock delivery is not possible. Stick curling is available at Swan River Community Club.
June Hart presented the opportunity for ladies of Minitonas to socialize at Tea Time hosted at the Pioneer Lodge at 2:00 pm the third Thursday every month except July and August.
Henry Barkowski provided information on seniors housing at the Minitonas Chalet and at the Pioneer Lodge. Rent is dependent on income and at the Lodge ranges from $ 330 to $555 per month. Currently there is a waiting list of five. Applications for residence are available from Marilyn Natyna. Applicants may get a suite immediately or be put on a waiting list. Several in attendance took the opportunity to tour one of the suites.
Coffee, refreshments and fellowship were enjoyed to conclude the afternoon.