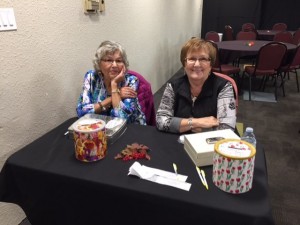 Submitted by:
Gloria Kutynec |
The Swan River Valley Health Auxiliary held a "Ladies Nite Out" on September 18, 2017.
The room in the Westwood Inn looked inviting with candles and fall leaves and berries.
Click any picture for a larger version.
Gayle Dunnett, president of the Swan River Valley Health Auxiliary, welcomed everyone to "Ladies Nite Out", and the Auxiliary Prayer was recited.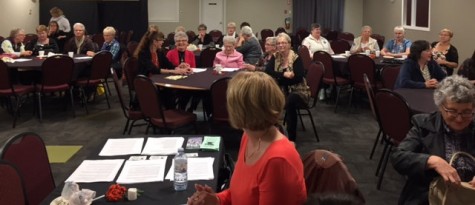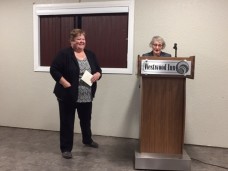 Gayle introduced the MC, Ada Husak, the Care Team manager for Swan River Valley Health Center. Ada welcomed everyone present and explained about the great work the Auxiliary does for the Health Center; and how much they are appreciated for their contribution of time and talent.
Ada introduced the first speaker, Michele Routhier, one of the founders of "Moms Without Borders". Michele explained about their organization and the fundraising they do to provide assistance to keep an orphanage in Haiti, running to be self sufficient. The Orphanage Foyer de Sion, schools the children and teaches them a trade.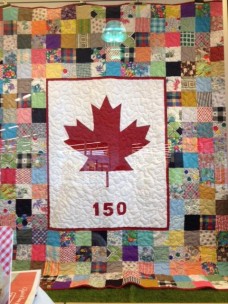 A coffee break gave everyone in attendance an opportunity to buy 50/50 tickets, and also tickets for the 150 Quilt, commemorating Canada's celebrations.
The material for this quilt was donated by Laura Karpa. A member of the auxiliary designed the quilt and donated her time assembling it.
The winner of the quilt was Laura Karpa.
Winners of the door prizes were Ollie Koutecky and Connie Farencheon.

Brittany Moore, a very talented 16 year old , entertained everyone with fiddle music and song. She was accompanied by Ken Thompson, also a very talented musician.
The second speaker of the evening, was Cathy Haggerty. Cathy is a Child/Youth Councillor at the Swan Valley Crisis Center. Cathy gave a very informative talk about abuse… the types, warning signs, how we can help someone, and the resources of where to go for help.
The winner of the 50/50 draw was Noni Struthers.
President Gayle Dunnett closed the evening, thanking the speakers, the entertainment and everyone for attending. In the past eleven years the auxiliary fundraised to buy $132,929 of equipment for the Health Center. And there is approximately $24,000 on order at present. The Auxiliary is always looking for new members. But, you don't need to be a member to donate your time to help with our fundraisers, or work at the tuck shop. Donations of items for the tuck shop are accepted, or to knit items with wool and cotton provided by the Auxiliary. There are many ways to help.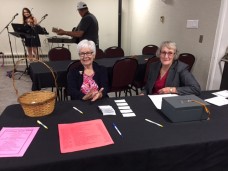 Everyone is welcome to attend the meetings that are always held at 2 PM on the first Wednesday of every month, at the Health Center.
The next fund raiser is the bake sale on Dec 8, 2017 There will be a draw for quilt donated by June Jamison. And also don't forget the Strawberry Tea during Hospital days in May.