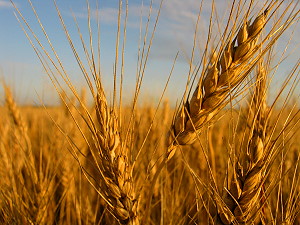 Northwest Region Crop Report Prepared by: Manitoba Agriculture
September 5, 2017 |
Northwest Region
Rainfall amounts varied through the region with upwards of 40 mm in the Grandview and Fork River areas, 25 mm in The Pas, 7 to 15 mm in the Swan River Valley, and close to 40 mm south of Roblin. Some high winds were experienced this week in parts of the region. Crops are generally in good to excellent condition with the exception of areas of the region suffering from extremes of moisture where crops are in fair to poor condition.
Winter wheat and fall rye harvest is complete. Spring wheat harvest in the Northwest Region is proceeding, with about 90% of the crop combined in the Roblin area and 60% around Swan River, with harvest operations in the Dauphin and Ste. Rose areas well underway. Spring wheat is yielding 75 to 80 bu/acre in the Roblin area and 60 to 90 bu/acre around Swan River.
Approximately 40% of canola fields are swathed around Swan River, and 50% combined around Roblin. In the Dauphin and Ste. Rose areas 50 to 70% of the canola crop is combined. In the Roblin area canola yields are 50 to 60 bu/acre.
Approximately 20 to 50% of the soybeans are in R7 stage. Lentil harvest is well underway and peas are generally complete. Pea yields range from 60 to 70 bu/acre in the Roblin and Swan River areas. Flax is in the boll stage.
Feed is still being put up in the region including greenfeed, second cut hay, wild hay, and straw. Dry conditions have allowed producers to cut native hay in areas that have not be accessible in recent years, and has permitted an earlier harvest therefore resulting in better quality. Pastures are starting to show the effects of lower moisture levels and the nearing end of the growing season. Low water levels have producers monitoring their livestock water sources.