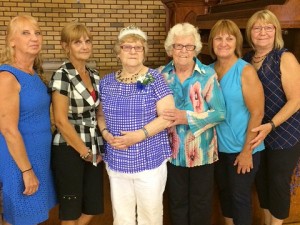 Submitted by:
Bernice Bohnhardt |
On Saturday, Sept 2, 2017 approximately 160 people (young & old) came out to celebrate the 90th birthday of Lydia Koop.


Pictured above: Daughters; Nadine and Deloris, Lydia(90) Nettie(Lydia's sister from AB – 92 yrs), Marilyn, Bernice. Click any picture for a larger version.
Everyone who knows Lydia, is accustomed to her friendliness and sense of humour when she speaks with each person.
This shows up by the great number of people that came out to give Lydia their Birthday Greetings and by the talking and laughter you could hear all around the hall. There were people from AB, Winnipeg, Pine Falls, SK, and Missouri and USA.
Everyone was treated to a delicious luncheon, prepared and served by Lydia's family and friends.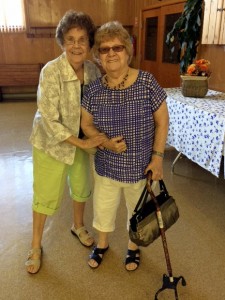 It is truly a blessing to be so Young at Heart at the age of Ninety.
Lydia's favorite saying this past year has been, " Hi, I'm Going to be 90 you know!"
Lydia and her family thank everyone that came to spend this Special Day with Her and make it the Best Day Ever! Thank you.