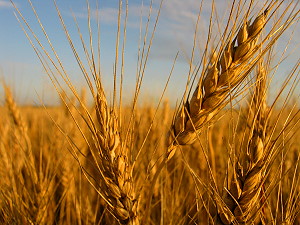 Northwest Region Crop Report Prepared by: Manitoba Agriculture
August 28, 2017 |
Northwest Region
High daytime temperatures continued through the week. Cooler overnight conditions have begun with nighttime temperatures dropping to lows of +2 in some parts of the region. Roblin, Swan River, and Dauphin received precipitation this week with rainfall amounts varying from 10 to 20mm. Most of the region remains dry with very dry soil moisture conditions in the Roblin area. Crops are generally in good condition with the exception of areas of the region suffering from extremes of moisture where crops are in fair to poor condition.
Harvest of winter wheat and fall rye is nearing completion. Spring wheat is ripening, with about 50% of the crop combined in the Roblin area and 10% combined in the Swan River area. Spring wheat harvest is underway in Dauphin and Ste. Rose. Approximately 25% of canola fields around Swan River are swathed, and 75% are swathed around Roblin. Canola swathing is also well underway around Dauphin with some canola combined around Ste. Rose. Soybeans are podding but the dry weather has slowed pod formation. Flax is in the boll stage. Pea and lentil crops have ripened and harvest is well underway with approximately 75 to 90% of the pea harvest complete. There are reports of pea yields ranging from 60 to 80 bu/acre in the Swan River area and spring wheat yielding 50 to 60bu/acre. Wheat and canola yields are projected to be average.
Warm dry conditions have allowed producers to make good progress in putting up feed. Second cut haying is wrapping up with variable yields and reports as high as 1.5 tonnes near Swan River. Annual cereal forage harvest in underway on later seeded fields with yields ranging from below average to just above depending on moisture conditions. Native hay harvest continues. Pea and cereal straw are being baled for feed and bedding. Pastures are in need of rain with those that have received less rain and/or been overgrazed in poor condition. Dugout levels are getting lower.