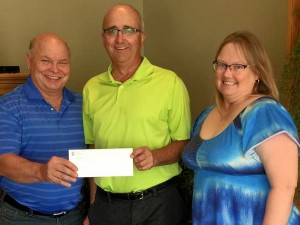 Media Release |
Rick Wowchuk, MLA for Swan River, today announced on August 31, 2017 that the Manitoba government is making an important investment in the Swan River constituency.

Click picture for a larger version.

As part of its ongoing commitment to Manitoba's Sport, Culture and Heritage, the Government of Manitoba is providing $8,500.00 in support of the 2018 Canadian Mixed Curling Championship. This will enable the Host Committee to provide a national curling event in Swan River from November 12 – 18, 2017.
"Our government understands that small communities and their residents depend on investments in important local community events such as the 2018 Mixed Curling Championship," said Wowchuk. "With the Sport, Culture and Heritage Fund, we are supporting this exciting national curling event in Manitoba that will facilitate growth, boost regional development and improve the quality of for our rural communities."
Wowchuk was joined by Murray Mullin and Erin Brown Co-chairs of the 2018 Canadian Mixed Curling Championship Host Committee to make the announcement in Swan River.