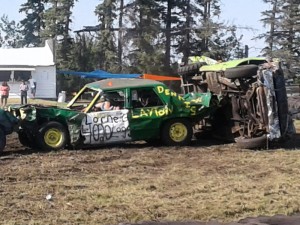 Edgar Yacyshyn |
The Durban Demo was held August 13, 2017.
There were a lot less cars this year, but most of the action was the same. With more room in the ring, lot of banging and crushing going on.

Click any picture for a larger version. Photos by ValleyBiz and Submitted
With vehicles being stuck together and smoke and sometimes flames shooting out, it was nice to see the local fire department was on stand by. All drivers put their vehicles to the maximum test, with tires being blown off and bent up everything else, still managed to put on a great show.
One car ended up on its side, driver ok, heat momentary stopped, crews assisted vehicle back on all fours and continued the heat.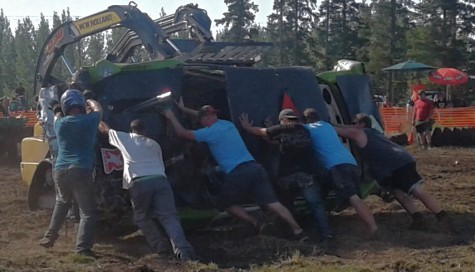 With less amount of vehicles the pit crew had to work hard to prep vehicles back in some shape for their next round.
Thanks to the Benito Fire Department for assisting and trying to keep the dust down and with the hot weather, kids and adults were also enjoying the soak down.

Also thanks to the Fire and Rescue for being on board, always nice to have them around and always nice to hear that they weren't called into action. Thanks to the two operators who quickly got the vehicles out of the ring, and once or twice had to assist one back into the ring! Thanks Mark and John.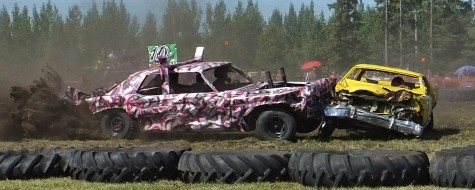 Thanks to the Sound Man, always nice to have a great PA system for the announcement and the entertaining music between heats. Thanks Les.
And thanks to all who assisted and volunteered, from the gate people, car checker, signing in, and judges. Seller of 50/50 and all who volunteered at the food booths. Heard it got a little warm cooking those burgers!

Thanks to all the Valley sponsors for their support in helping to host the event. Thanks to Valley Biz for their advertisements. Always a well informed site. Thanks. Thanks to everyone that assisted, very much appreciated.
Here's a look at the winners. Hope to see you and more next year!

Grand Challenge Winner
Clayton Troxler $2,000
Grand Challenge Runner Up
Dale Hay $500

Heat 1. Dwight Popoff

Heat 2. Clayton Troxler

Consolation. Layton Larocque

Powder Puff. Joanne Riehl

Mechanics. Linus Chartrand

Hard Luck. Clinton Burtnack

Sportsman. Curtis Popoff

Mad Dog. Dale Hay.
Best Dressed. John Wadin