Submitted by:
Heather Nielsen |
Swan Valley RISE is all about TOURISM these days and we are promoting locally as well as outside the Valley.
Part of the local focus is showcasing some of our treasures.
Click any picture for a larger version.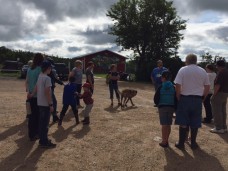 The latest was a tour of Pretty Valley Honey Farm on July 22, 2017. What a sweet gem we have in our Valley!
Thank you to Eckhard and Katarina Rinsdorf for the informational tour and homemade buns and sweet honey.
It is quite an international business we have right here in our midst.
Eckhard gave us a engaging learning session on bees and honey which evoked boundless questions from the visitors. It's quite amazing how much knowledge and external factors go into what many of us take for granted in a tub of honey.
As the current president of the Co-operative Bee Maid Honey, Eckhard is busy at home as well as abroad.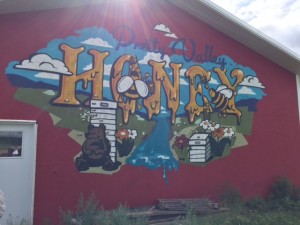 Pretty Valley Honey produces over 100 tonnes of honey each year.
If you want some homegrown sweetness Pretty Valley Honey is at the Farmer's Market, located at the Elbert Chartrand Friendship Centre, every Thursday from 4-6.
Keep tabs on our Facebook Page (Swan Valley Economic Development) for new developments and drop us some suggestions of things and places you would like to know more about.