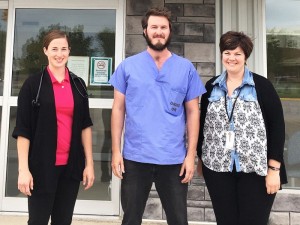 ValleyBiz Story |
Prairie Mountain Health (PMH) recently announced the addition of several new health care professionals at the Swan Valley Primary Care Centre (SVPCC).
Two physicians and a nurse practitioner are already seeing patients and there are more on the way.
Submitted Picture: New health care professionals recently started at the SVPCC. From left are Dr. Savanna McKay, Dr. TJ Grexton and Nurse Practitioner Cheryl Marfleet.
Dr. Savanna McKay joined the SVPCC practice in early July.
Dr. McKay attended medical school at the Northern Ontario School of Medicine and completed her residency at the Parkland Family Medicine Residency Unit in Dauphin this year.
Future Physicians Recruited to Swan Valley
Dr. TJ Grexton of Grandview is providing half-time services at the SVPCC.
Dr. Grexton completed his residency at the Parkland Family Medicine Residency Unit.
Dr. Baher Ghendy will join the SVPCC this September.
Dr. Ghendy completed the International Medical Graduate program.
Cheryl Marfleet, a Nurse Practitioner, also started at the SVPCC in July.
Marfleet recently completed her Nurse Practitioner Education through the University of Saskatchewan.
"PMH has been in constant contact with at least three additional physician recruits from the Northern and Remote Family Medicine Program." said Michelle McKay, PMH Director of Medical Administration. "PMH hopes to be in a position soon to provide more details regarding their potential recruitment to the community." she added.
PMH also hopes to have an additional nurse practitioner starting in October to providing services through the SVPCC.
"Although the new additions certainly will help by allowing more patients to be seen, the Centre still faces some challenges in the short-term trying to keep up with patient volumes and demand. said McKay. "This is partly due to some physicians from the Centre presently being on various forms of leave for either personal or further educational reasons."
The Swan Valley Primary Care Centre continues to try meet the needs for additional patient appointments. For more information on physician/NP appointment availabilities, please contact the SVPCC at (204) 734-6600.