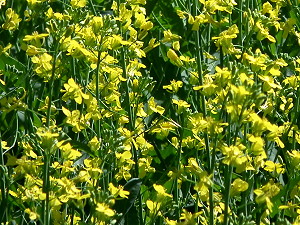 Northwest Region Crop Report Prepared by: Manitoba Agriculture
July 24, 2017 |
Northwest Region
The Northwest Region experienced high temperatures this week and crops are advancing nicely. Rainfall amounts varied with 12 to 20 mm received across the Swan Valley, 13 mm in The Pas, upwards of 70 mm in parts of the Dauphin area, and 8 to 25 mm in the Roblin area. Soil moisture conditions remain somewhat variable within the Northwest Region. Some areas would like precipitation as conditions remain very dry. Soil moisture conditions in parts of the Dauphin area as well as in The Pas have been excessive but are starting to dry, allowing field operations for weed control to take place. The remainder of the region, has adequate soil moisture.
For most of the region the high temperatures noticeably advanced and improved plant growth this week. The exception is parts of the Roblin area where the continuing dry weather is starting to affect yield potential.
Approximately 60% of the spring wheat crop is in the heading/flowering stage with the crop entering the milk/dough stage; some early seeded fields are beginning to turn. Canola is well into the flowering stage and approximately 30% are starting to pod. In the Roblin area where soil moisture is inadequate, canola is done flowering. Approximately 50% of the flax fields are flowering while peas are flowering and podding. Soybeans and lentils are flowering. Winter cereals are ripening. In The Pas herbicide and tillage operations are underway on weedy fields. Fungicide applications continue on later seeded crops in the region as crops reach appropriate staging and risk exists. Enhanced scouting for Bertha armyworm larvae in the Durban area is encouraged as trap count numbers have reached the uncertain risk level.
First cut tame forage harvest is nearing completion and yields have been variable across the region ranging from 0.75 to 3 tons/acre. Native hay harvest is underway and dairy second cut is approaching completion. Unsettled weather and humidity caused challenges in putting up hay in good condition in wetter areas across the region including Fork River.
Pasture conditions range from excellent to fair throughout the area as a result of differing moisture conditions with this past weeks rainfall varying from 6.25 to 50 mm. Dugouts are adequate. Foot rot and pink eye are a problem on some pastures.