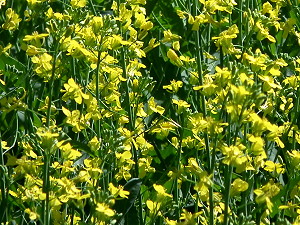 Northwest Region Crop Report Prepared by: Manitoba Agriculture
July 17, 2017 |
Northwest Region
High temperatures and windy conditions with rain were experienced in many areas this week. Rainfall amounts varied throughout the region with 25 to 35 mm across the Swan Valley, 13 mm in The Pas, upwards of 65 mm in parts of the Dauphin area, and only trace amounts in the Roblin area. Soil moisture conditions are very diverse within the region. Roblin is dry, in parts of the Dauphin area as well as The Pas, soil moisture conditions remain excessive, while in the remainder of the region, soil moisture is are adequate.
The high temperatures visibly advanced plant growth this week where soil moisture conditions were suitable. Approximately 50% of the spring wheat crop is in the heading/flowering stage. Canola is in the flowering stage with some early seeded fields starting to pod. Approximately 50% of flax fields are flowering. Peas are flowering and beginning to pod. Soybeans and lentils are beginning to flower. Winter cereals are ripening. In The Pas, herbicide and tillage operations are underway on weedy fields. Fungicide applications continue in the region as crops reach appropriate staging and where risk exists.
On the west side of the region, good weather conditions allowed producers to continue with haying operations. Sporadic rain from Dauphin to McCreary delayed haying in some localized areas. First cut yields have been 1.4 to 2 tonne/acre with less on older stands. Pastures around the Roblin and Grandview areas require rain for continued production. Wet conditions are still present in areas surrounding The Pas and McCreary although pastures in The Pas are starting to recover.