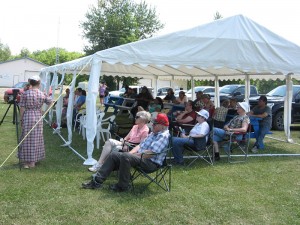 Submitted by:
Violet Plett |
The 4th Annual Barrows Gospel Jamboree was held July 14 – 16, 2017. This year we had record attendance.
Friday evening and Saturday were nice and warm and sunny.
Click any picture for a larger version.
Sunday morning we had some rain and strong wind, so we had to move into the hall.

Don Buhler from Swan River was there to give a very interesting presentation of God's Plan of how to get to Heaven. The Bible is the final authority to give us God's message, and Don brought this out very well. Jesus is the answer.
Thanks to the town of Barrows for the use of their very nice facilities. People from out of town commented how nicely the town is kept up and that you should be proud of your town.

We had a guest book this year and it was interesting to see where the people came from. There were people there from Barrows, Mafeking, Hudson Bay, The Pas/OCN, Nipawin, Moose Lake, Swan River, Bellsite, Melfort, Benito, Lethbridge, Indian Head, Bowsman, Thompson, Prairie River, Grand Rapids, Prince Albert, The Bluff, Austin, SCN.
We heard many comments like: see you next year, I'll be here next year, etc, so I guess we'd better start planning for next year.
Thanks to Valley Biz for running the event announcement and for posting this follow-up report. Thanks to our sponsors who helped out a lot. Thanks to Extra Foods and Coop in Swan River who gave us discounts on some of the groceries for the concession booth. Thanks to all who added to the donation can to help with expenses. The money raised will go towards paying gas and an honorarium for our invited bands.
Thanks to Ivan and Bernice, Carl and Cathy, Cyril and Freda, and the Wiebe Family for coming and sharing your talent and heart for God with us this weekend. Thanks too to the local singers who added variety to the concerts. We trust that all who attended were blessed and drawn closer to God because of being there.