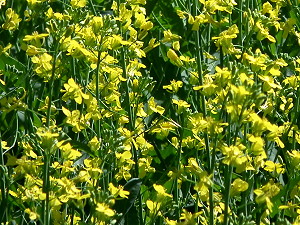 Northwest Region Crop Report Prepared by: Manitoba Agriculture
July 10, 2017 |
Northwest Region
High temperatures this week brought in a few thunderstorms. A thunderstorm came through the region on Thursday evening with strong winds, sheet rain, and some localized hail. The Minitonas area received the strongest of the storm with some crops pushed down, along with broken trees. Rainfall varied in the region from no rain in the south part of the Swan Valley to 20 mm in the Northeast part of the Swan Valley. Approximately 20 mm of precipitation fell in the Roblin area. Soil moisture conditions have improved in The Pas, however they are still excessive with another 10 mm of rain on the weekend.
The high temperatures visibly advanced plant growth this week; however, crop development is behind average for this time of the season. Approximately 25% of the spring wheat crop entered the heading/flowering stage, while the remainder is in stem elongation. Although the fusarium head blight risk remains low for the area, some producers have applied fungicides. With 50% of canola reaching the flowering stage and 50% in the rosette, fungicide applications have started on canola. High daytime temperatures have been the main spraying challenge this week. Soybeans and fababeans are in the vegetative stage of growth. Peas continue to flower. Some buckwheat crops have started flowering. In The Pas weeds are flourishing due to difficulty accessing fields for herbicide applications.
Some Bertha Armyworm traps in the Benito/Durban area have had higher counts this week, however the cumulative count is not a concern as of yet.
Good forage harvesting progress was made this past week due to favorable weather. Early reports indicate alfalfa grass yielding 1.4-1.75 tons/acre. Alfalfa weevils are still present in much of the region. Pastures are in decent condition with some areas that would benefit from rain. Wet conditions remain in The Pas.