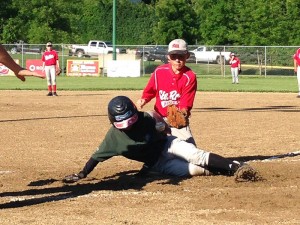 Submitted by:
Jenifer Ferland |
Our Swan River 13U "A" Provincials was a success. We had great weather, some great talented teams joining us from all over the province, some wonderful dedicated volunteers which all helped pull this huge event together.

Click any picture for a larger version.
Our Swan Valley peewees held there own against the competition, winning one game out of 4. 2 games were very close so that shows us we are in the running for next year.
We had a wonderful opening ceremony, parading the teams out were the Grandslam kids plus some friends as lots are already at the lake. Carolle Cowan and Gord Zamzow worked together to throw an inspiring opening pitch which was dedicated to Jack Brown whom the ball diamond is named after.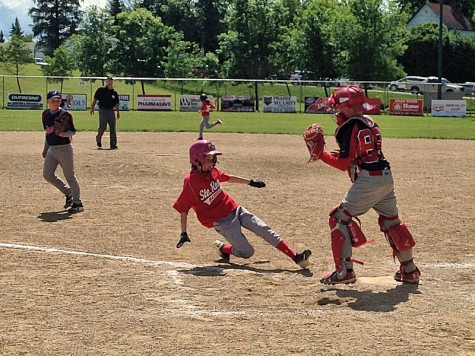 We couldn't have brought this event together without the help of our team parents, everyone pulled together and worked a lot more than they signed up for.
Our talented announcers made the games more interesting, Craig and Gord Zamzow, Mark Simpson, Ken Munro and Lyle Sagart. Lise Fraser and Rob Buchanon were life savers in keeping games and coaches running smoothly.

Pictured above: The Russell Bulls – 2017 Provincial 13U "A" Champions.
Our pancake breakfast was very successful, thanks for the assistance Bev Lumax, Joyce Trevellyan and Shirley Leask.
The town crew was a huge bonus for this weekend, the diamonds were beautiful. We truly have the most beaultiful ball park in the Valley, with the walking trails and river and trees for shade. Thank you to the work crew for making it great. Brenden Fedorchuk was indispensable throughout the weekend, thanks to you for your help.
We had many compliments about the park, our town, our people, businesses and hotels – that's a great bonus to all the businesses in Swan River.
Great job this weekend! It's a lot of work on the volunteers, but you guys did an awesome job of hosting.
– Marc Hazelwood, Ste. Rose
"On behalf of the La Broquerie A's I'd like to thank you and your volunteers in Swan River for a job well done this weekend. Everything was great and it was a fun experience for our team. You guys have a great set up there! Thank you!"
– Mitch Tétrault
"On behalf of the Elkhorn Expos I want to extend a huge thank you to you, your team, all the volunteers, and the entire community of Swan River. The weather, facilities, and park were fantastic. Couldn't have asked for a better weekend for baseball. Thanks again for a great weekend."
– Travis C.D. McColl