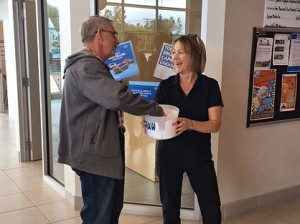 Submitted by:
Jackie Mayuk |
The community has once again pulled together in an enormous show of support for a local family. A benefit barbecue was held Friday, June 23, 2017 at Formo Motors, with the proceeds going to long time employee Stephen Sloane, who is fighting cancer.
Click any picture for a larger version.
Along with serving more than 400 burgers, staff washed cars and held a Chinese auction, with all money raised going to the Sloane family. Community support was phenomenal, with the line for the barbecue stretching all the way through the dealership during its peak hours. Sloane was in attendance, and helped draw the names for the Chinese auction winners.
The Sloane family, along with Formo Motors, wish to thank all the people who helped make this fundraiser a success. From the other local businesses like Madoco and The Mushroom Patch who donated items, to the generous people who gave their time serving food, washing cars, and keeping everything running smoothly, and the staff, family, and friends who showed their support by taking part, you have all been terrific example of the strength and generosity of our small town.