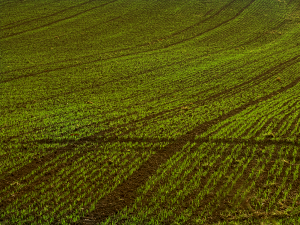 Northwest Region Crop Report Prepared by: Manitoba Agriculture June 19, 2017 |
Northwest Region
Cooler temperatures throughout the week ended off with a weekend of rain in most of the Northwest Region. Rainfall amounts varied from 32 to 55 mm in the Swam Valley area and 38 to 50 mm in the Roblin area, with ponding occurring in some fields. Dauphin received 19 to 34 mm; Ste. Rose received 19 mm and McCreary received 58mm. The Pas received 25 mm of precipitation; soil moisture conditions in this area are excessive with fields inundated.
The majority of seeding in the North West region has wrapped up, with the exception of The Pas, where seeding remains at less than 15% complete due to excess moisture. Most of the crops continue to advance nicely in the remainder of the region. Winter cereals are at the boot stage and spring wheat is in the seedling or tillering stage. Most of the canola is in the rosette stage, but patchy emergence is seen in some later seeded fields due to lack of moisture at the time of seeding. Field peas, lentils, and soybeans are in the vegetative stage.
There were no herbicide applications throughout the weekend and due to wet fields spraying early in the week will be a challenge. Weed activity is flourishing in fields that have not yet had a herbicide application.
Diamondback moth populations continue to be the highest in the Minitonas region; however, the count is down significantly compared to the previous week. Bertha armyworms are of no concern. There are reports of fields in the Swan Valley region with cutworm activity.
Rain over the past week was welcome for forage and pasture growth throughout the region. Haying has not begun to any extent due to the rains. There are some reports of flowering beginning on alfalfa plants in some fields. Alfalfa weevil damage was reported in the McCreary area.