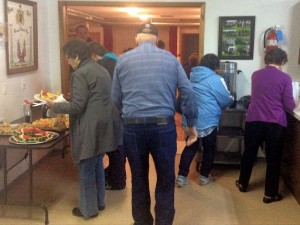 Submitted by:
Rose Kovachik |
A Father's Day Brunch was held at the Cowan Community Centre on Sunday, June 18, 2017 from 9:30 – 11:30am. It started out as a bit of a dreary day with a few scattered showers, but this did not hinder the patrons that attended the brunch.
Click any picture for a larger version.
Even a few cyclists from Swan River braved the weather to make the trek to Cowan.
Those that came were greeted with a hearty array of food such as pancakes, sausages, eggs, hashbrowns, muffins and fruit. Not only was this a place for "Dads" to sit back and enjoy a breakfast feast, but it was also a place for all to gather and catch-up with neighbors, friends and family.
Once again a big thank you to those that attended and supported our community function.
Thanks everyone and hope you enjoyed the brunch. Come back again.