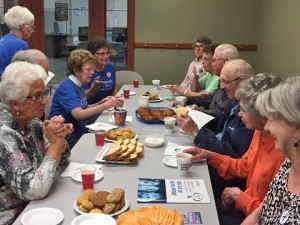 Submitted by:
Bev Leach |
June 15, 2017 has been designated World Elder Abuse Awareness Day. The Board of Service to Seniors recognized the day at the North-West Regional Library by hosting an event titled "It's Just Not Right".

Click any picture for a larger version.
The purpose of the event was to publicize local and regional efforts being made to raise awareness.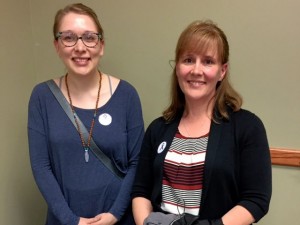 Crystal Duchense and Carli Ullmann from the Swan Valley Crisis Centre made an excellent presentation which highlighted the very real existence of elder abuse. They informed those attending of the forms of abuse, why victims did not disclose abuse or neglect, why it happens and what can be done.
Abuse of older adults most often occurs within the family but about 80 per cent of abuse or neglect is hidden or undetected. It can take the form of physical, emotional, financial, sexual or psychological abuse but is often not reported due to fear of retaliation, family loyalty or shame.