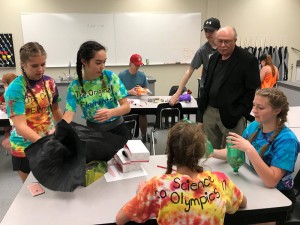 Submitted by:
Paula Shevernoha |
On Wednesday, June 7, 2017 the SVRSS Science & Ag Departments held the second annual Science Olympics. Ten teams of four SVRSS students participated in 5 very challenging events.

Click any picture for a larger version.
Every event had a specific task, with limited supplies given and a pre-determined time allotment. A criteria score rubric was used to determine points awarded, and the team with the most points at the end of the day were crowned the winners.
The first event had participants construct an egg crate that would be able to survive a drop from the top of the scissor lift, several feet off the ground.
Crates were massed at the end of the drop to determine who had the lowest mass with the best egg outcome.
The "I Scream for Ice Cream" challenge was our second event. The challenge was to create the best homemade ice cream, in a limited period. Access to internet recipes was allowed and teams could choose their methods and flavours based on supplies available. It was amazing how great the ice cream truly was and some teams were even thoughtful enough to ask the judges what their favourite flavours and colors were, in an attempt to win them over!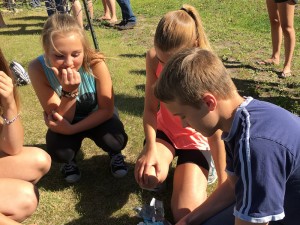 Event number three was the Agriculture event. Students' skill was put to the test in the areas of seed, soil, fertilizer, plant and directional knowledge. Each team was required to complete a course, collecting the correct items along the way, in order to plant a viable tomato plant.
This event proved to be challenging for many teams, as many aspects of the event were out of their element. Those who followed instructions precisely were most successful.
The Pop-Bottle Rocket was the fourth challenge teams had to undergo. Limited supplies were provided again and web research was allowed to assist.
In this event, designs and materials used were the key to success.

The object was to stay in the air for as long as possible. Some designs worked, while many had parachute fails.
Our last event was the "Get Me to the Greek" chariot race. Teams were provided parameters for this event prior to Olympic day, in order to research, design and build their chariots. There were many great designs and the race provided entertainment for the many spectators that came out to the track to cheer them on!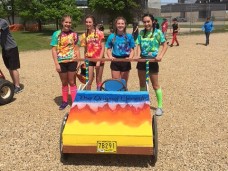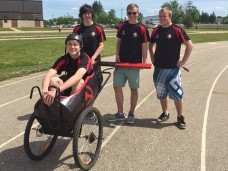 We could not have done any of these activities without the help of our activity sponsor donations!
They were as follows:
Swan Valley Funeral Services – donated Co-op Gifts
SVRSS Cafteria – donated Lunch vouchers
SVRSS Tiger's Den – donated Pizza and Slushies
SVRSS Student Council – donated T-shirts
COMPETITION RESULTS:
We also could not have had as successful of a day without the skill of our fantastic judges; Janet White Riddell, Henry Barkowski and Taniesha Hubscher!
We look forward to many more Science Olympics to come!
SVRSS SCIENCE OLYMPIC COMMITTEE: Paula Shevernoha, Tanya Staniland, Lana Sagert & Carol Larson