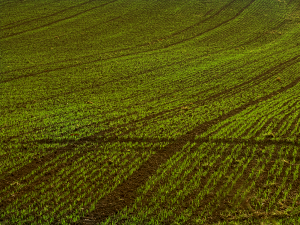 Northwest Region Crop Report Prepared by: Manitoba Agriculture June 12, 2017 |
Northwest Region
Warmer temperatures and strong winds occurred throughout the Northwest region this week. The weekend brought rainfall events for some of the region. Precipitation was limited to light scattered trace amounts in the Dauphin area, 5 to 18 mm throughout the Swan River area and 35 mm of rain in The Pas. Soil moisture conditions are extremely variable. The Roblin area has some very dry soils which are affecting germination and crop emergence. The southern part of Swan River is also dry. Soil moisture conditions are considered excessive in the northern part of the region and in localized parts of the Dauphin area.
Seeding progress in the Northwest Region is estimated to be 90 to 100% complete with the exception of The Pas where, due to excess moisture, seeding is less than 15% complete. In the region, 95% of wheat is seeded with 50% in the seedling stage. Almost 100% of canola is seeded with approximately 50% of the crop in the seedling stage. Seeding of soybeans is complete with 75% of the crop in the vegetative stage; field peas and lentils are planted and generally in the vegetative stage. Winter cereals in the Roblin area are near the flag leaf stage.
Strong winds and rainfall were a challenge for herbicide applications however operations have started and will continue as field conditions allow and as crops reach the proper stage. There are reports of spraying for cutworms in the Swan River area with some reseeding taking place. Diamondback moth monitoring trap counts remain low.
Last week's warmer temperatures advanced forages, particularly in areas that received rainfall. Bromegrass is heading out and alfalfa is approaching the early bud stage. Hay growth is variable from field to field, with fields cut or grazed late in the fall showing slow growth. Dugout levels are adequate.