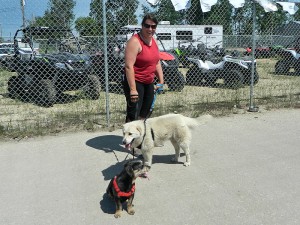 Submitted by:
Sherry Martin |
The Swan Valley Animal Protection League barbecue, held on June 8, 2017 at the Fire and Ice parking lot, was a resounding success; with a great turnout on a beautiful summer day.
Click any picture for a larger version.
People enjoyed a nice visit in the sunshine over a burger or a hot dog and a cold drink with rice krispie treats for dessert!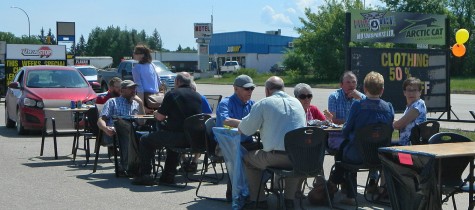 A tiny kitten, the only survivor of a litter that lost their momma, was delivered into the care of Lisa Scales, our shelter manager, while we were there.
Everyone loved meeting the tiny little creature! Thanks to Lisa and Audrey Sercombe, some of our dogs were able to attend, and they sure didn't seem to mind any handouts that came their way (the dogs, not Lisa and Audrey)!
Brian and Rob slaved over a hot grill cooking for us, and Kathy and Maggie kept the production line going.
Kelsa, Michelle and Kyla looked after getting people their lunch and kept things stocked up.
John and Susan were there to give us a hand with anything we needed! Thanks to everyone to helped out in any way.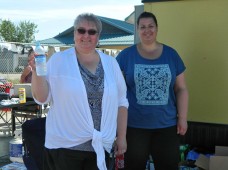 A big thank you to Howie Scales and his staff at Fire and Ice for letting us use the parking lot, and for picking up tables and chairs for us. Kevin Carter and the Kinsmen Club lent us their grill and propane tanks, plus they delivered, all at no charge! Thanks Kevin! To our sponsors – Valley Meat Packers, Swan Valley Coop, and Extra Foods – who donated some food items or gift cards, thank you so much! And on a hot day, the Westwood Inn kept us cool by donating all the ice!
We are so grateful to everyone that attended and supported us by buying lunch and putting money in our donation jar, and for the donations of dog and cat food that people dropped off. The support shown to us has always been amazing! Thank you! Apologies to anyone I may have missed.