Submitted by:
Carla Dixon |
The Association for Community Living – Swan River held their 56th Annual General Meeting at the Westwood Inn on Wednesday June 07, 2017.

Click any picture for a larger version.
Approximately forty-five people enjoyed the luncheon which was catered by the Westwood Inn at 12 PM with the meeting beginning at 1 PM.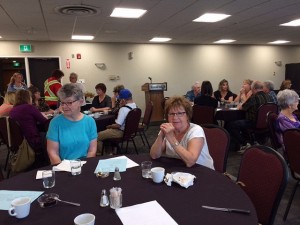 Representatives from MLA Rick Wowchuk's office, Town of Swan River, Municipality of Swan Valley West, Lions Club of Swan River and Special Olympics were in attendance and offered words of support and encouragement.

ACL Board President John Christensen thanked all staff employed with the agency for their dedication and commitment in making a difference in the lives of the individuals we support. He proceeded to recognize nine staff for their years of service with ACL Swan River.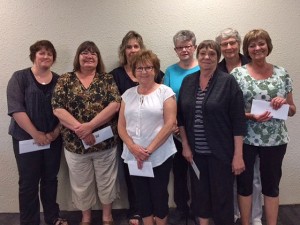 The nine staff recognized with "Years of Service" – Ruby Patience for 30 years, Carla Dixon for 25 years, Sonia Spencer for 20 years, Sue Belanger, Darlene Bordian, Louise Kolisnyk, Lynne Spraggs for 15 years, and Val Hagglund and Kara Sagert for 10 years.
Daphne Currie was the lucky door prize winner of the hanging flower basket – Thanks to Cox's Greenhouse for donating the door prize!!
ACL would like to extend their appreciation to everyone that attended.