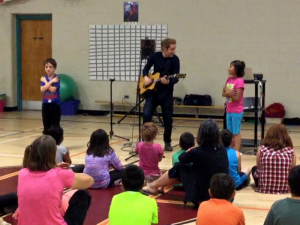 Story Submitted by:
Nicole Bobick
Our first Wellness Day exceeded our expectations – it was a lot of fun!
The goals were to share a day with Benito School, make new friends and experience a variety of wellness activities.
Above picture by Nicole Bobick
Other Pictures by ValleyBiz – Click for a larger version.
Students and staff learned about "Mindfulness" and other strategies that can use to calm the mind, manage anxiety, stress and build resiliency. Keith MacPherson was also here in the morning to perform at the assembly the ABC's of Mindfulness to the students and staff. Keith is a Musician, Mindfulness and life coach, writes a column in the Manitoba Teacher's Society Balance Magazine, and is also one of the founders of the "I AM" festival which takes place outside of Teulon, MB.
Yoga with Janette Beaudry, certified yoga instructor: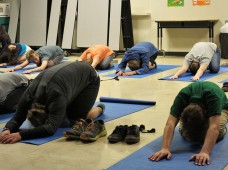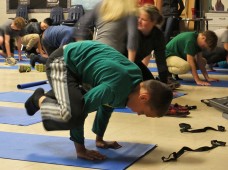 Students learned about different yoga poses and how to use their breath to calm their mind and balance their body. Janette focuses on basic poses so students can practice yoga on their own. She also shows them some of the more difficult poses so they know what to work towards.
Drums Alive with Kristin Immerkar: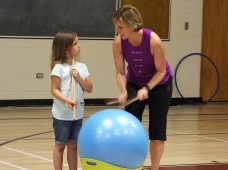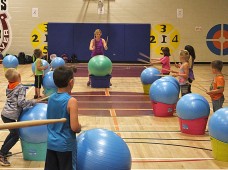 Mrs. Immerkar is our JK-Gr.2 teacher who is a certified Drums Alive Instructor. Drums alive is a program that applies fitness, drumming, music, and educational concepts used to improve the health of children and adolescents. It is also pretty fun for adults too.
A Mindful Nature Walk with Sheldon Stevenson: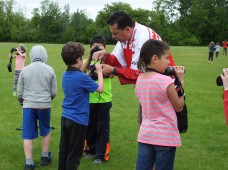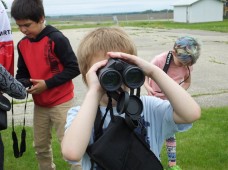 Mr. Stevenson our Physical Education and Social Studies specialty teacher supervised this event. A mindful nature walk is paying attention to our environment in a non-judgemental way. This practice brings you closer to nature and helps to strengthen your concentration and focus.
Body Scan and Art Therapy with Brenna Smith and Kayla Vibe: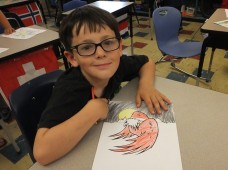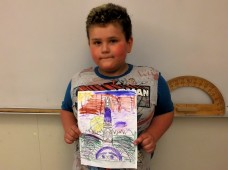 Miss Smith and Miss Vibe started the session with a total body scan. The goal of a body scan is to be aware of the different parts of your body and allow yourself to experience how each part feels without trying to change anything. Art therapy is another mindful practice that allows us to stay focused, silent and present in the moment with out judgement. These silent, peaceful, and mindful practices are ways we can train our brain to be calm when we need it to be.
Mind-Body Connection Sharing Circle with Nicole Bobick: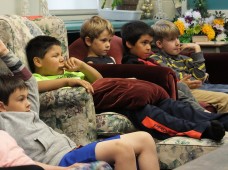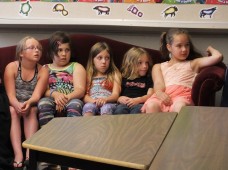 The goal for this session was to provide students and staff the science behind Mindfulness. To explain and discuss the physical changes to our bodies when we experience fear and how we can use our brains to control our emotions. This session ended with a breathing meditation that helps us to build healthy habits of the mind. Wellness is not just physical it is mental wellness too.
I would like to say thank you to the parent volunteers. Thank you Monique Wozny and Gieselle Johnston for serving our lunch. A huge thank you to Janette Beaudry for doing 5 yoga classes with us that day. Thank you Chicken Chef staff for cooking and delivering our Pizzas. I also wanted to recognize and say thank you to the Swan Valley Co-op for donating freezies for everyone. Also thank you to the Birch River and Benito School staff for working so well together to make this day a huge success for our students.