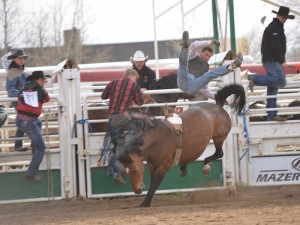 Submitted by:
Angela Mullin |
The Swan Valley High School rodeo was a huge success again this year, although the weather wasn't great the participants had a wonderful time in our community.

Click any picture for a larger version.

The comments to the committee from parents and kids alike were all positive, and they are looking forward to the finals on June 9-11th in Swan River.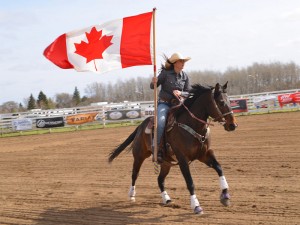 The weekend started Friday night with a jackpot barrel race and continued Saturday morning as the Swan Valley Lions held a pancake breakfast. The rodeo got started at 10 am with the flag bearers, O Canada and the Cowboy Prayer.

We had quite a few local entries in the HS & JR High Rodeo, with Zac Machan riding Bareback & Bulls and Keir Fedorchuk competed in the saddle bronc. Colten Abrahamson rode bulls both days and won the Sunday go! Jack Mullin & Corbin Legebokoff both competed in the Chute dogging, and Corbin rode JR bulls as well. Jenna McKay, a local, and an MHSRA member competed in the goat tying, Barrels, Poles, Breakaway roping, & team roping. Jenna was second in the poles on Saturday!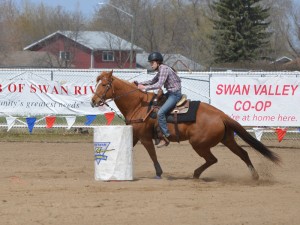 We had a few other local girls enter the barrels & poles as well, including Madison Rausch was in the HS Barrels & Poles, Mackenzie Currie, Kaylee Keefe and Kaliegh Currie all competed in the JR Barrels & Poles. Kaliegh was 7th in poles on Sunday!
The LIttle Buckaroos was held after the HS rodeo on Saturday. Kids from Kindergarten to Grade 5 competed in Barrels, Poles, Goat Undecorating, Dummy Roping & Bucky Riding! Bailey Langevin, Dax Mullin, Tyler Petelski, Kailey McArthur, Danica Hyrcyk. Noah Gamache, Grayson Burghart, Chole Currie, Tavyn Boychuk, and Spencer Burghart were the local kids that entered!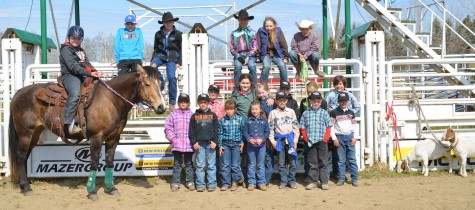 Saturday night the contestants had a pizza party under the grandstands. Thanks Pizza Place for the great food!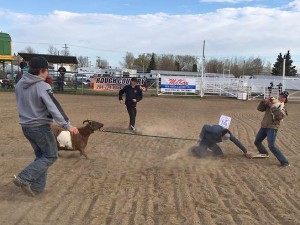 Peter Bresky introduced the members and parents to a new fun game, Barnyard Ball!! Cows, Chickens, Llamas and donkeys were all used.
It was a memorable time for all that participated!

Sunday the rain drizzled most of the day, but the rodeo ran smoothly and timely. Thanks in part to Peter Bresky on the Rough Country Kubota tractor, keeping the arena safe!
Thanks to all the volunteers that helped out our committee this weekend, the local businesses that sponsor this great event, and to the Kinsmen for feeding everyone all weekend long! The community support for High School Rodeo has been overwhelming and the competitors feel that when they come to town!
We hope everyone will come out and watch the High School Rodeo Finals being held here in Swan River on June 9-11th! The Swan River Lions will host a pancake breakfast on June 10th & the Kinsmen booth will be open again!
See you at the Rodeo!