Submitted by:
Cory Hurren |
Over five hundred people came up to Whitefish Lake on Saturday, March 18, 2017 to celebrate the 20th anniversary of the Billy Beal Classic Ice Fishing Derby.

Click any picture for a larger version.
Derby entrants enjoyed the mild weather and were able to catch over twenty fish.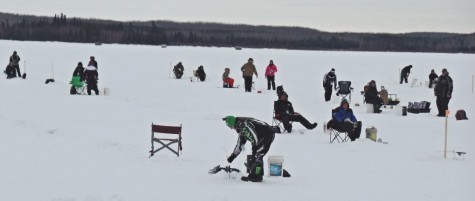 The Billy Beal Classic is an annual fundraiser that has been put on by the three local Swan Valley Lion Clubs which are Bowsman, Minitonas, and Swan River. All proceeds from the Billy Beal Ice Fishing Derby goes towards the Swan Valley Lions Medical Assistance Fund.
As of March 1st, 2017 the Swan Valley Lions Medical Assistance Fund has paid out $225 230.16 to help 277 residents of the Swan River Valley with only $78.41 in administration costs since it started.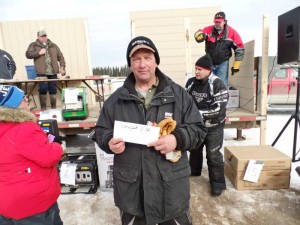 Pat Bergson was the Grand Prize winner of $10, 000 with his Northern Pike that weighed in at 13 pounds and 14 ounces. Second place went to Christine Carter with a pike weighing in at 3 pounds, 6 ounces. Danny Hrapstead got 3rd place with a pike weighing 3 pounds, 3 ounces.

Hidden Weight winner was Mitchell Lafreniere with 1 pound 10 ounces. Hidden Time winner was Danny Hrapstead.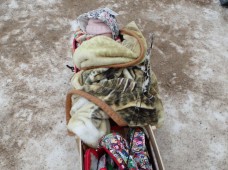 Youngest Fisher was Bella Hicks at 1 year and 4 months.
Oldest Fisherman was Frank Rosteski.
No perch were caught.
50/50 winners were Ann Nobi for $1406.25, Joan Nemchuck for $843.75, and Kristen Hutman got $562.50.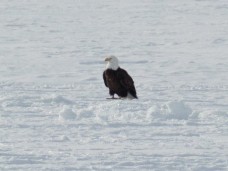 The "Baldest Fisherman" was awarded again to the bald eagle who came out again this year to help us with the cleanup after the crowd left.

Dale Noble from Davidson, Saskatchewan had one of the two drones that were also observing the activities from above. The other was used by reporter Jeremy Bergen from the Star and Times.


Congratulations and thank you to our prize winners and to all of our participants, helpers, and sponsors who made the day another huge success.