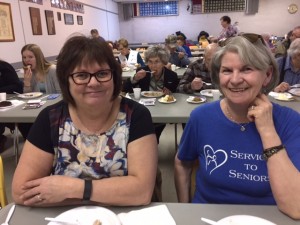 Submitted by:
Beverley Leach |
Forty-nine participants attended the "It's Not Right!" presentation at the Elks Hall on February 24, 2017.
The event was sponsored by Services to Seniors.

Above: Presenter Theresa Roberts and Kay Markle, Community Resources Coordinator, enjoyed a quick visit before the presentation.
Presenter Theresa Roberts of Prevent Elder Abuse MB (PEAM) explained to the audience how to recognize warning signs of abuse of older adults and how to respond effectively and safely.
Those in attendance enjoyed a delicious lunch prepared by Verneece Eggie. Constable Brett Friesen explained the role of the RCMP in any investigation and what they can and cannot do in a given situation.
The Board of Services to Seniors appreciates the financial support of Community Futures Parkland, which sponsored this important event.