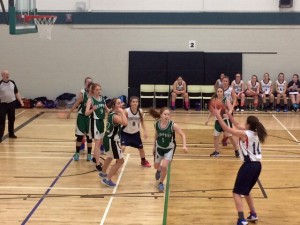 Submitted by:
Lise Fraser |
On February 22, 2017 the JV Girls basketball team travelled to Dauphin for the third and final game of the Zone Championship having split the two previous games.

Pictured above: Sabrina Kopecky takes a shot from the perimeter.
Click any picture for a larger version.
The Tigers had hosted the Dauphin Clippers on Feb 21st and came away with a 35-22 win.
The Tigers fell behind in the first quarter as a result of Dauphin's aggressive press and defence. Dauphin scored a few quick baskets using a fast break and by the time the Tigers shut that down the score was 18-7 for Dauphin at the end of the first. The Tigers were not to be deterred though, and started to chip away at Dauphin's lead. Dauphin continued to press but the Tigers were able to beat the press, with good ball handling and passing from Sabrina Kopecky, Alison Rowe, Decorbea Fleury, Erica Sembaluk-Hart and Ireland Staples which resulted in layups from Brenna Schure, Adria Bateman and Lauren Klatt at the other end of the court. By the end of the first half, the score was 27-25 in Dauphin's favour. The Tigers scored the first basket in the second half, tying the game and they never looked back after that point.
At the beginning of the 4th quarter, the Tigers had built a lead of 8 points. Dauphin continued to apply pressure but the Tigers kept their cool, used the time clock to their advantage and added to their lead. With 4 minutes left in the game, the Tigers had a lead of 11 points and Dauphin was scrambling on defence, trying to intercept passes. With only a few seconds left on the shot clock Staples made a shot from just inside the three point line to extend the lead to 13 points. The Tigers focused on defence, denying shots and securing rebounds for the remaining few minutes of the game. Final score of the championship game was 53-38 for Swan Valley.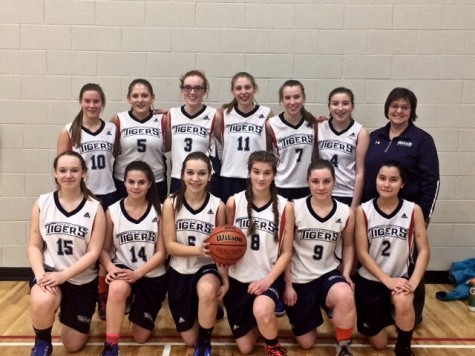 Pictured Above: Front Row: Erica Sembaluk-Hart, Sabrina Kopecky, Josie Black, Sydney Fleming, Decorbea Fleury
Back Row: Ireland Staples, Brenna Schure, Adria Bateman, Caitlyn Stewart, Lauren Klatt, Sydney Fedorchuk. Coach: Lise Fraser
Offensive players of the game were Brenna Schure with 14 pts, Adria Bateman with 12 pts and Lauren Klatt with 11 pts.
Defensive players were Ireland Staples, Sydney Fleming and Josie Black. Securing rebounds, chasing down Dauphin players on a fast break to deny layups ensured that Dauphin would not come back in the game.
The Tigers will play either Neelin High School or Neepawa Collegiate in the inter-zone game on March 2nd for a provincial berth at the JV Girls Provincials on March 9-11 in Altona.